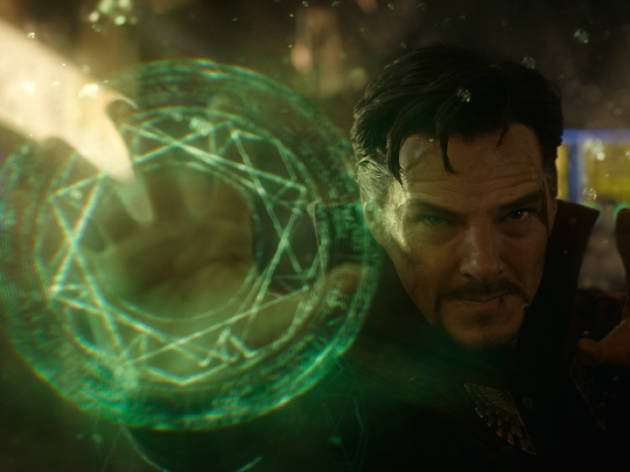 Time Out says
Benedict Cumberbatch is an arrogant supersurgeon in Marvel's weirdest and wackiest movie ever.
The Marvel-verse has never shied away from a bit of groovy psychedelia, from the prog-rock cityscapes of Thor to Ant-Man's voyage into cosmic inner space. But they've never gone full down-the-rabbit-hole acid freak-out—until now. There are sequences in Doctor Strange that could burn the top layer off your eyeballs, crammed as they are with the most unashamedly drug-inspired imagery since the Simpsons episode in which Homer accidentally takes peyote.
But problems arise when Doctor Strange tries to tackle the everyday stuff, like telling a half-decent story. Our hero, Dr. Stephen Strange (Benedict Cumberbatch), a New York supersurgeon more interested in fame and fortune than saving lives, is a brittle, unlikable snob, played by the Imitation Game star as Sherlock Holmes with a funny accent, a sports car and slightly improved interpersonal skills. And he's the closest we get to complex: Tilda Swinton as the Ancient One—a shaven-headed guru who promises to open his mind to the endless possibilities of an infinite universe—is basically Yoda without the humor, while the character we're meant to care most about, Strange's ex-girlfriend Christine (Rachel McAdams), is just as blank.
Luckily, the 3-D visuals compensate. From hurtling, 2001: A Space Odyssey–inspired intergalactic excursions to Inception-style city-folding antics in the so-called Mirror Dimension, the film has a freewheeling, gravity-defying buoyancy that's beautiful to behold. But it can all feel a little threat-free—it's hard to sustain tension when literally anything can happen. Director Scott Derrickson (Sinister) promised us "weird and wild" when he began, and so his film is, at least within the context of a major Hollywood blockbuster. If only he'd found a way to contain these giddy surrealist elements within a compelling storyline.
Details
Release details
Rated:
PG-13
Release date:
Friday November 4 2016
Duration:
115 mins
Cast and crew
Director:
Scott Derrickson
Screenwriter:
Scott Derrickson, C. Robert Cargill, Jon Spaihts
Cast:
Benedict Cumberbatch
Chiwetel Ejiofor
Rachel McAdams
Tilda Swinton

Rating Breakdown
5 star:

0

4 star:

0

3 star:

1

2 star:

0

1 star:

0
I love Benedict Cumberbatch as Sherlock. He plays the serious douche really well. No different in this movie. Walking into the movie, I didn't know much about the story at all. Just knew it was a Marvel film so it must be good. Plus superpowers are always good. Always. The movie is action packed with lots of special effects (with 3D stuff) enough to keep you interested the whole film. There's also a couple of funny jokes in it, but it's pretty predictable and basic superhero storyline. Overall, entertaining.