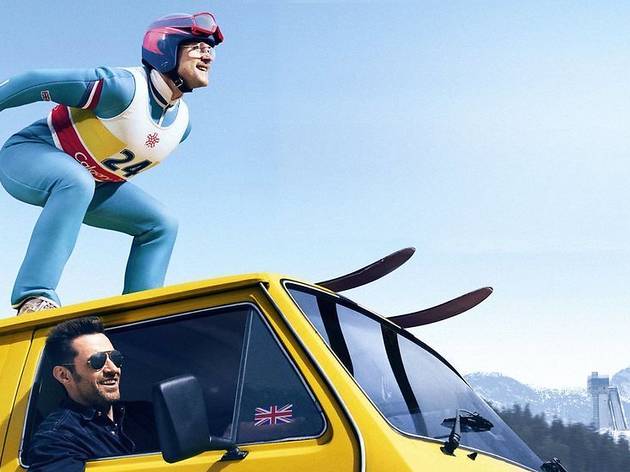 Time Out says
This mostly fictional comedy biopic takes liberties with the legend of British Olympic oddball Eddie Edwards.
Real-life Eddie Edwards was an unusual Olympic hero. An amateur ski-jumper from Cheltenham, England, he came in dead last at the 1988 Winter Games, but won the audience over with his wacko charm. However, this eager-to-please biopic of Edwards couldn't be more conventional if it tried. Director Dexter Fletcher turns every cheap trick in the book, from training montages to creaky slapstick to (groan) a punch-the-air finale scored to Van Halen's "Jump." Imagine Cool Runnings but with a pasty-faced dork standing in for the entire Jamaican bobsled team and you've got the general idea.
Taron Egerton's lead performance verges on bad taste, playing Edwards as a squinting social outcast fuelled by a crazed obsession to "have his moment." The opportunity arises when he meets alcoholic ex-jumper Bronson Peary (Hugh Jackman), who takes this crazy kid under his wing.
Peary, though, is an entirely fictional creation. The film never admits it, but almost everything here has been invented for the screen. That leaves a bad taste: Edwards is still very much alive, and his story is bizarre enough without embellishment. Eddie the Eagle may suffice for a brainless Friday night, but an honest account would have been a lot more memorable.
Details
Release details
Rated:
PG-13
Release date:
Friday February 26 2016
Duration:
105 mins
Cast and crew
Director:
Dexter Fletcher
Screenwriter:
Simon Kelton, Sean Macaulay
Cast:
Taron Egerton
Hugh Jackman
Christopher Walken
Rune Temte