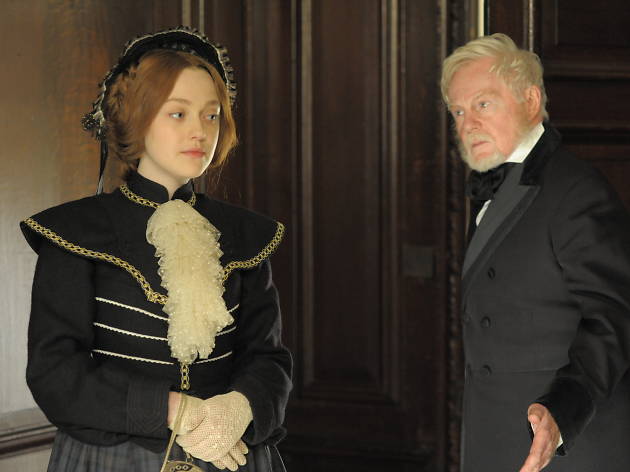 A painterly biopic about the formative years of an inadvertent 19th-century feminist, Effie Gray offers a rare look at a dark and foreboding topic that seldom appears onscreen: the nightmare of being married to a critic. In 1848, when she was 19 years old, Euphemia "Effie" Gray (Dakota Fanning) was wed to contrarian pundit John Ruskin (Greg Wise), the Armond White of the Victorian era. The two were first acquainted when Effie was a young girl and John, a man nine years her senior, was inspired to write the fantasy novel The King of the Golden River for her. Though Effie had no say in her choice of husband, the fact that her spouse had already written (and published) a fairy tale in her honor made her confident that she was poised to live one of her own.
Every bit as handsome, inert and confoundingly lifeless as the man to whom Effie was betrothed, Richard Laxton's film wastes precious little time in dispelling any notions of domestic bliss. The disastrous wedding night sets the tone for the years to come: Effie offers herself to John, who abruptly shrinks away to his study as though his new bride were radioactive. The rest of the Ruskins are likewise offended by Effie's presence, with John's overbearing parents (Julie Walters and David Suchet) convinced that the girl's impudence will ruin their family. Naturally, it isn't long before Effie begins to look for happiness beyond the walls of the Ruskin's delicate household, flirting with a young Italian she meets in Venice and later falling in love with one of the Pre-Raphaelite artists whose work John had championed.
The rare period piece that resists a helpful infusion of modern-day freshness, Effie Gray is entombed by the same emotional repressiveness that frustrated its namesake. Effie never knew why her husband found her so repulsive, and she was a victim of a culture in which it was improper to ask, but Emma Thompson's script—the first that she's written for adults since winning an Oscar for 1995's Sense and Sensibility—uses inexpressive characters as an excuse for incurious storytelling. Effie is so tortured by her circumstances that she develops a severe nervous condition, but even when the film champions the girl for chasing her own happiness, it does so with a Victorian sense of propriety. Although Fanning's forced Scottish accent is an effective reminder that her character is out of place at Ruskin's side, her tightly coiled performance reinforces the feeling that Effie is as distant from us as John was from her.
As a result, Effie's eventual escape, however understandable, is strangely unmotivated, because we've never gotten a good look at the gears turning inside her head. So while the film clearly wants to be an affirmation of female agency, it plays instead like nothing more than the story of a girl who marries an ogre and waits to be freed by true love's kiss. By the time Thompson shows up as a fairy godmother of sorts, Effie Gray has become the fable that it warns its heroine not to expect from life.
Follow David Ehrlich on Twitter: @davidehrlich
Release details
Rated:
PG-13
Release date:
Friday April 3 2015
Duration:
108 mins
Cast and crew
Director:
Richard Laxton
Screenwriter:
Emma Thompson
Cast:
Emma Thompson
Dakota Fanning
Claudia Cardinale
Julie Walters