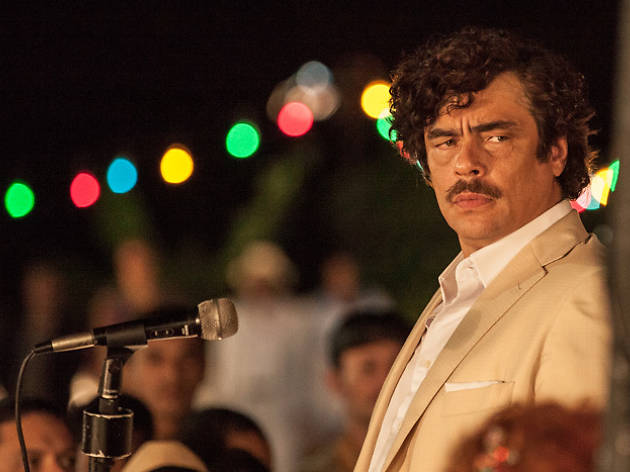 When you've got Benicio Del Toro playing Pablo Escobar, the rest is just icing on the cake. In the annals of perfect biopic casting, this coup is up there with Daniel Day-Lewis as Abraham Lincoln and Morgan Freeman as Nelson Mandela. Del Toro's roly-poly take on the ruthless Colombian kingpin, who controlled 80 percent of the world's cocaine supply at the height of his power during the late '80s, is sinister and seductive in equal measure.
It's a good thing Del Toro casts such a long shadow, then, because despite what the title might have you believe, Escobar: Paradise Lost reduces the eponymous Colombian drug lord to a supporting character. Andrea Di Stefano's directorial debut recalls The Last King of Scotland in how it indirectly engages with a brutal tyrant through the eyes of a foreign white tourist who gets in way too deep.
And tourists don't get much whiter than Nick (Josh Hutcherson), a slack-jawed Canadian surf bum who moves to an idyllic South American beach with his brother (Brady Corbet) and falls for the wrong girl. Maria (Claudia Traisac) is gorgeous and charitable and sincere in her love for the smitten expat with his Caesar haircut—she's also Pablo Escobar's niece. As the film's framing device lets us know from the start, Nick will grow close to the ruthless kingpin, eventually earning himself an uncomfortable front-row seat for the decline of the greatest coke empire the criminal world has ever known.
The decision to make Nick the protagonist implicitly places a greater emphasis on the suspense of his situation than it does the social conditions underlying Escobar's rise to power, and Di Stefano leans into that by deviating from his formulaic plotting with a tense and focused third act that focuses on the foreigner's survival. Any insight into Escobar's relationship with the people of his country is sacrificed in the trade-off—Nick sees him as a charismatic Robin Hood who showers the poor in blood money that's still dripping wet, but the film forgets the complexity of Escobar's politics as soon as Nick realizes that he needs to escape. If only Paradise Lost gave us a better sense of what he was leaving behind.
Follow David Ehrlich on Twitter: @davidehrlich
Release details
Rated:
R
Release date:
Friday June 26 2015
Duration:
120 mins
Cast and crew
Director:
Andrea Di Stefano
Cast:
Benicio Del Toro
Josh Hutcherson
Brady Corbet