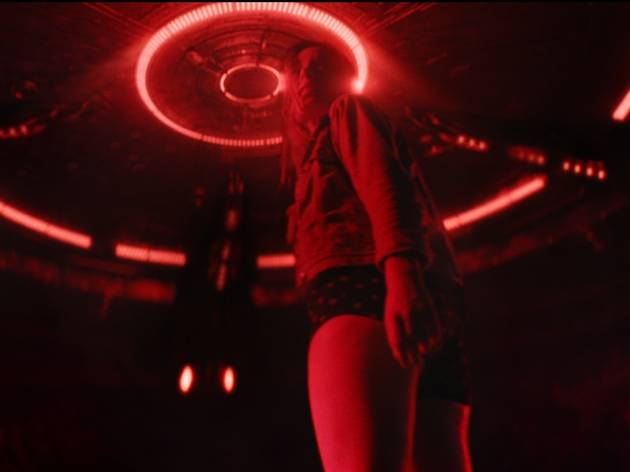 Another gang of obnoxious teenagers; another secluded cabin in the deep, dark woods; another lurking supernatural presence: This scare-by-numbers horror flick faces an uphill battle to convince us of its right to exist. It's a battle that Extraterrestrial unexpectedly wins but only in the final three minutes—and getting there isn't really worth the effort. Brittany Allen plays April, whose trip to her mom's arboreal hideaway turns nasty when a mysterious UFO crashes nearby.
April and her party-hard pals are as interchangeable as they are unbearable, but when your lead actor is introduced with a leering close-up of her scantily clad backside, it's safe to say that character development isn't a top priority for writer-directors the Vicious Brothers. That said, their direction is functional and moderately effective, the cinematography is crisp, and there are one or two decent shocks.
But Extraterrestrial doesn't amount to much beyond a mish-mash of movies we've seen before—until that aforementioned coda, which combines sudden violence, a gorgeous extended tracking shot and probably the weirdest use of a gushy Magnetic Fields love song imaginable. If only the entire movie had been as playful and bizarre.
Release details
Rated:
N/R
Release date:
Friday November 21 2014
Duration:
101 mins
Cast and crew
Director:
The Vicious Brothers
Screenwriter:
The Vicious Brothers
Cast:
Brittany Allen
Freddie Stroma
Michael Ironside
Anja Savcic