Fantastic Beasts: The Crimes of Grindelwald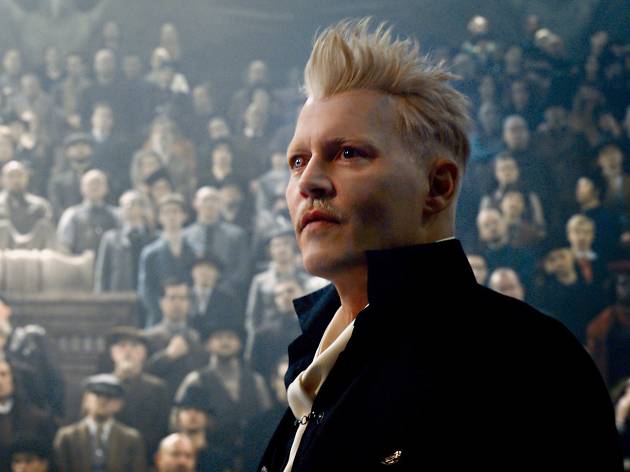 Time Out says
The second chapter of the Harry Potter spin-off provides twists and glorious visuals, but it strains under the weight of a mountain of plot.
The first Fantastic Beasts had a lot of heavy lifting to do. It needed to establish a world connected to the Harry Potter universe, but also one that was self-contained. It had to introduce several busloads of new characters and kick off a story complex enough to sustain another four movies (at least). With all that done, the second instalment should have earned itself some breathing room, a bit of time to cut loose and enjoy the possibilities of a new magical universe. But as beautiful and inventive as it is, The Crimes of Grindelwald often feels like we're starting the world-building all over again.
Trying to establish where everyone is at the beginning of this sequel without giving too much away is going to get confusing, so our apologies in advance. Fascist wizard Gellert Grindelwald (Johnny Depp, looking rough) has broken out of jail in London and fled to Paris to lay the groundwork for an uprising. In order to stop him, the wizarding government approaches Grindelwald's ex-friend Albus Dumbledore (Jude Law, relishing his fairly brief screen time), who refuses the mission but enlists the help of animal-lover Newt Scamander (Eddie Redmayne) for a more secret version of the same mission. There are about eight other major characters involved, but we've only got so much space. Short version: A wizard war is a-brewing.
Moving most of the action to Paris gives the film's creative team the opportunity to run wild with some gorgeous production design. Visually, the world couldn't be richer. Our progress through it, though, feels sluggish. As a screenwriter, J.K. Rowling is ambitious: She wants to pack in huge amounts of story—there are revelations that will send dedicated fans back to the original novels to re-evaluate certain events—but she plots for books, not for the screen. There are so many characters that the momentum can only ever be slow, simply because of the sheer volume of exposition needed. This story would be thrilling and have space to do its juicy saga justice in a 500-page novel. In a 135-minute movie, it's a bit jumbled and rushed. Several major characters, particularly rebellious government witch Tina (Inherent Vice's Katherine Waterston), don't get a lot to do because there's too much to squeeze in.
With its callbacks to the Potter universe and a lovely eye for detail, The Crimes of Grindelwald has bags of intermittent charm and a warm familiarity. But too often, it feels like a beast that's been overburdened.
Details
Release details
Rated:
PG-13
Release date:
Friday November 16 2018
Duration:
134 mins
Cast and crew
Director:
David Yates
Screenwriter:
J.K. Rowling
Cast:
Johnny Depp
Eddie Redmayne
Katherine Waterston
Ezra Miller