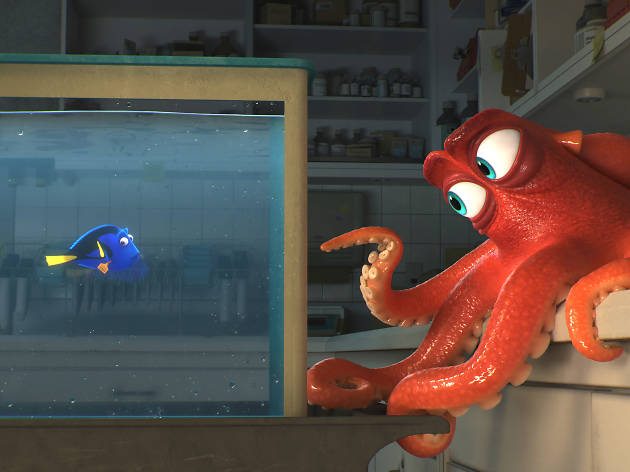 Pixar dives 13 years into its past for a sequel that, for the most part, goes swimmingly.
While Finding Dory is definitely the kind of visual pleasure we've come to expect from Pixar, its storyline doesn't always reach the heights of inventiveness upon which the gigantic animation studio has built its reputation. The film lacks the psychological probing of Inside Out, the existential ponderings of Wall-E, the gentle, stoic sadness of Up.
But it's still a solid, moving sequel to 2003's Finding Nemo, following the adventures of Dory (Ellen DeGeneres), an adorably ditzy amnesiac blue tang fish, as she seeks the Californian family she suddenly remembers losing. There's a neat symmetry here: In Nemo, a father (Albert Brooks) looks for his lost infant (Alexander Gould); in Dory, a grown-up daughter searches for her parents. The switch, though, has a resultant lack of urgency; there's more dramatic tension and tear-inducing moments when a child goes missing than when a parent is suddenly remembered by their adult offspring.
Dory rediscovers her childhood home in a corner of the California Marine Life Institute, a place for ichthyological study, presided over by the disembodied, omniscient voice of Sigourney Weaver, playing herself (think of those museum-guide gadgets narrated by celebrities). Weaver brings a wonderfully surreal note to the film that will sail over the heads of younger viewers—she's a welcome presence in a Pixar offering that has less-than-the-usual number of gags pitched at older viewers.
In keeping with the film's subtle celebration of difference, Dory grew up in a place where damaged aquatic life is "rescued, rehabilitated and released." This is the thread that powerfully connects the sequel to the original; it's Nemo's stunted fin, writ large. In Pixar's oceanic world, obstacles—both external and internal—are there to be overcome. Nemo keeps swimming, as does Dory, with nary a moment of self-pity. She enlists the help of several critters whom, like Nemo before them, won't let their disabilities hold them back, like Destiny (Kaitlin Olson), a myopic whale shark, and Hank (Ed O'Neill), an octopus that's one tentacle short of a full set.
The CGI rendering of Hank's chameleonlike abilities as he blends in with his surroundings is spectacular, and it recalls the transparent wonders of Marlin's jellyfish encounter in Nemo. Pixar's wizardry is baked into every detail, from the sun-dappled ocean surfaces to the underwater visuals that border on photorealism. It's unforgettable stuff. A Nemo trilogy might be pushing the franchise too far (does the world really need Finding Marlin?), but Dory's journey of self-discovery is a worthy partner to its predecessor.
Release details
| | |
| --- | --- |
| Rated: | PG |
| Release date: | Friday June 17 2016 |
| Duration: | 103 mins |
Cast and crew
| | |
| --- | --- |
| Director: | Andrew Stanton, Angus MacLane |
| Screenwriter: | Andrew Stanton, Victoria Strouse |
Rating Breakdown
5 star:

0

4 star:

3

3 star:

0

2 star:

0

1 star:

0
Most people says sequels are never measure up but this film did not disappoint! It was hilarious and extremely cute- who doesn't love a big-eyed baby Dory!? It's a great family movie and any age will enjoy!
so so very cute! I love the original, but this was hilarious. Although it wasn't a much of a tear jerker...the laughes will keep on coming Ellen DeGeneres was spectacular once again, and even Ty Burrell (Phil from Modern Family!) was in it.. enough said :)
Loved this film! The plot...eh, not so great. The characters and graphics? Awesome. Becky was surely the showstopper, but your heart melting for baby Dory and the belly laughs over the harbor seals were great too! But seriously...go see the movie, just for Becky.