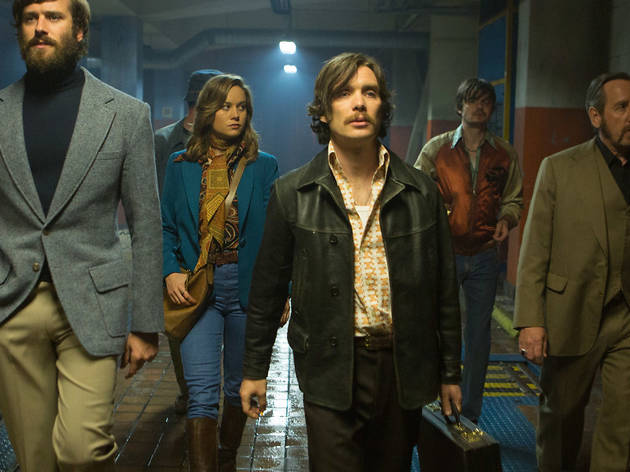 Time Out says
In a blood-soaked warehouse, criminals fire off bullets and barbs in a tired retread that's beneath all involved.
British director Ben Wheatley is too smart to make nice little genre films—and his scattershot yet monotonous latest, Free Fire, is worse than that. Kill List (2011) was a dingy one-last-job crime picture that evolved into something wholly unexpected and creepy; Sightseers (2012) is the funniest movie ever made about a murder spree; High-Rise (2015) totally got J.G. Ballard's hermetic banality (even if that concept was never enough to sustain a whole novel in the first place).
Which is all by way of saying that Wheatley shouldn't settle for becoming the next Guy Ritchie. For some reason, he'd like to: Free Fire, a too-pleased-with-itself action comedy, features a bunch of trigger-happy goons in a 1970s warehouse having a violent close-range showdown over constant wisecracks and a briefcase of cash. Their unraveling arms deal—mainly orchestrated by an IRA buyer played by Cillian Murphy—has gone terribly wrong; so has Sam Riley's cringe-inducing Boston (?) accent; Sharlto Copley's sub-Tarantino buffoonery; and Brie Larson's blank stare in an underwritten part as a shady businesswoman. Add to the list of fails Larson's casting agent, who somehow thought this would be the right fit for her after Room.
The movie explodes with nonstop, pinging gunfire, noises that even John Woo fans might find abrasive after a while, but worse are the lunges at comedy. A John Denver 8-track tape comes decades too late to the wink-wink retro party, while thick polyester shoulder pads and meaty thighs take the brunt of the bullet hits, a gag that gets progressively duller the longer you realize you wouldn't miss any of these poorly defined characters even if they were mortally wounded. They're either too tough to kill or too dumb to die. Had Free Fire expanded on that joke, it might have been a charmer. Instead it feels like ammo squandered.
Follow Joshua Rothkopf on Twitter: @joshrothkopf
Details
Release details
Rated:
R
Release date:
Friday April 21 2017
Duration:
90 mins
Cast and crew
Director:
Ben Wheatley
Screenwriter:
Ben Wheatley, Amy Jump
Cast:
Brie Larson
Sharlto Copley
Armie Hammer
Cillian Murphy