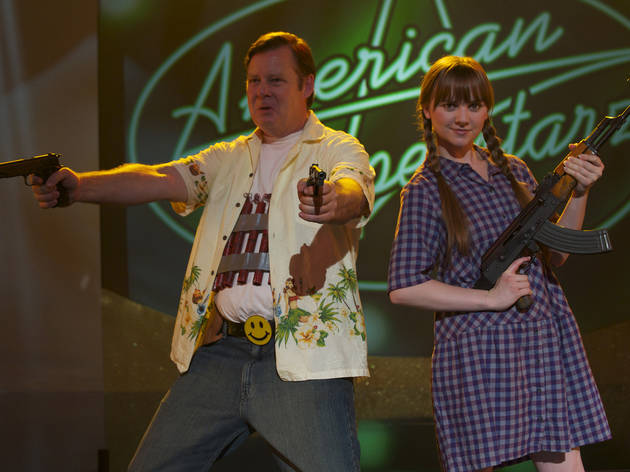 When Bobcat Goldthwait turned to writing and directing (with 1991's Shakes the Clown), it was almost as if he knew audiences weren't going to accept earnest hand-wringing from the Police Academy guy who used to scream in Tim Kazurinsky's face. Since then, his has been a career of remarkable risk, touching on bestiality (Sleeping Dogs Lie) and plagiarism (World's Greatest Dad), always with the takeaway that lying might be a better option than honesty.
God Bless America spoils the streak—it's Goldthwait's first misstep, a serious one. He's simply not the filmmaker to mount a fierce takedown of Kardashian culture, thorough though his script's rage is. No matter how sincere his fed-up, recently fired office drone Frank (Joel Murray) sounds—"Why have a civilization if we're no longer interested in being civilized?"—the truths chew in the mouth like rancid spinach. Diagnosed with a brain tumor, Frank goes on a Natural Born Killers–like murder spree, first offing an obnoxious reality-TV teen, then more cultural signposts, while his cohort, a thrill-seeking high schooler, Roxy (Tara Lynne Barr), cheers him on.
Goldthwait's targets swirl like fish in an especially narrow barrel (American Idol, Howard Stern, Glenn Beck–style jingoists); worse, he doesn't seem aware that his own violent revenge fantasy is, in itself, a kind of cliché. To wit: Roxy wants them to take out Diablo Cody, even though her character is nearly a clone of Juno's sass-mouthed heroine. Does that pass for cutting irony? The movie is the kind of undercooked satire that might be mistaken for meaningful by the midnight-madness crowd; let's hope Goldthwait the stealth smartie returns posthaste.
Follow Joshua Rothkopf on Twitter: @joshrothkopf
Release details
| | |
| --- | --- |
| Rated: | R |
| Release date: | Friday May 11 2012 |
| Duration: | 107 mins |
Cast and crew
Director:
Bobcat Goldthwait
Screenwriter:
Bobcat Goldthwait
Cast:
Joel Murray
Tara Lynne Barr
Mackenzie Brooke Smith