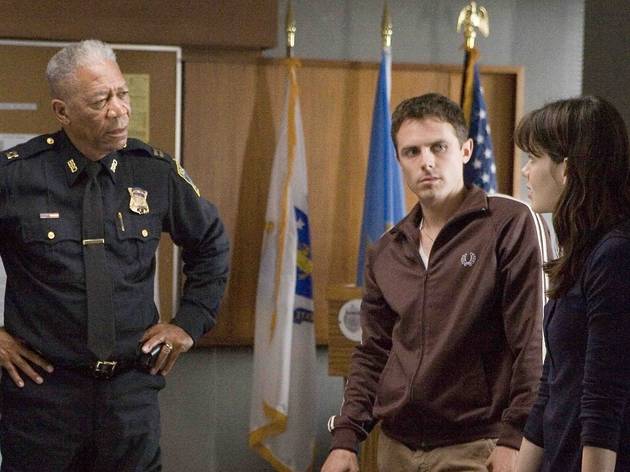 A beautifully observed piece of South Boston regionalism filled with tough talk and uneasy stare-downs, Gone Baby Gone eventually crams in way more plot than is necessary. But in the moments when its missing-child drama simply aches with expressions of loss or confusion, it suggests the emotional acuity of The Wire or Mystic River—two other projects that novelist Dennis Lehane has been involved in. The movie leans hard into thick accents, midday barroom shadows, and compromises of career and love. All cop films should feel this lived-in.
Let's thank Ben Affleck, odd as that may seem. The actor, a dependable source of preening self-regard, has somehow become a fine director of modest silences. In adapting Lehane's sprawling story (Affleck cowrote the script with fellow Bostonian Aaron Stockard), he has carved out meaty, conflicted roles for his up-and-coming younger brother, Casey—who's terrific as the film's neighborhood favorite and private investigator—as well as the consistently underrated Michelle Monaghan (Kiss Kiss Bang Bang) as his work partner and bedmate.
The two make a completely believable duo, wiping sleep from their eyes as relatives of a distraught mother appear at their doorstep. Cops are already on the case, but the couple's personal touch is deemed more effective; you squirm as they are sucked into the scarier reaches of Boston's criminal underworld (and corrupted overworld). Even as habitual hams Morgan Freeman and Ed Harris fill up the stillness with tortured monologuing, the younger drama is never out of sight. Ultimately, it's what devastates you.


Release details
Cast and crew
Director:
Ben Affleck
Screenwriter:
Ben Affleck, Aaron Stockard
Cast:
Casey Affleck
Michelle Monaghan
Ed Harris
Morgan Freeman
Amy Madigan
Titus Welliver
Amy Ryan