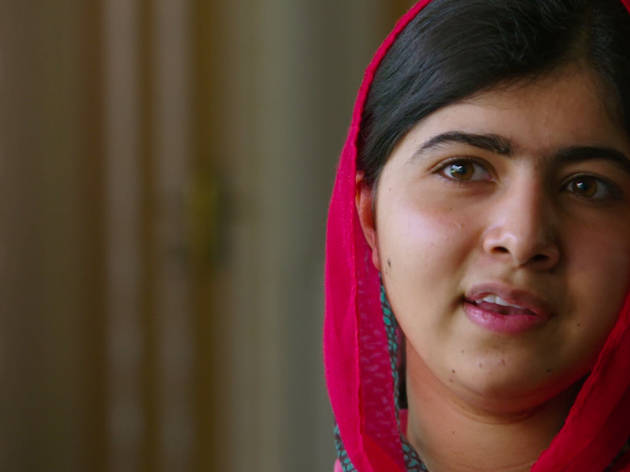 Time Out says
A hollow portrait of an extraordinary girl.
Davis Guggenheim won an Oscar for filming Al Gore's PowerPoint presentation in 2007, and he's only been getting lazier ever since. Increasingly, the megaphone he provides for his admirable pet causes has a way of garbling the message.
The frustratingly artless He Named Me Malala is but the latest of Guggenheim's paeans to the global need for education. Few causes are as urgent—and as personal as they are for Nobel Prize winner Malala Yousafzai, who was only 15 when she was shot in the head for opposing the Taliban's oppressive influence in her home of Swat Valley, Pakistan. Since surviving the assassination attempt, Yousafzai has become a global icon in the fight to ensure that the world's children, particularly girls, are given the tools necessary to make the most of their lives.
It would be impossible to fully negate the power of Yousafzai's voice, but Guggenheim certainly muddles it. The director lacks faith in his subject's ability to hold our attention, an insulting misjudgment that results in a bizarre narrative structure (Guggenheim dances obliquely around her shooting until the film's final minutes) and a series of garish animated sequences that are used to fill in parts of Yousafzai's story his camera couldn't capture.
Understandably, Guggenheim isn't critical of his young subject, but he also skips over the few areas of her life that might have made his narrative more complex. Yousafzai's uneducated mother, for example, is marked by the resigned ignorance her daughter is trying to eliminate from future generations, but Guggenheim refuses to explore that wrinkle in their relationship. Instead he treats the matriarch like a leper, an unwanted presence on the periphery of the frame.
Yousafzai is undoubtedly an inspiration, but Guggenheim's attempts to make her more accessible to her peers (Malala struggles with math! Malala has a crush on Roger Federer!) render this doc about as insightful as her Wikipedia page and half as coherent. He Named Me Malala should be shown in schools across the world, and absolutely nowhere else.
Follow David Ehrlich on Twitter: @davidehrlich
Details
Release details
Rated:
PG-13
Release date:
Friday October 2 2015
Duration:
87 mins
Cast and crew
Director:
Davis Guggenheim
Users say