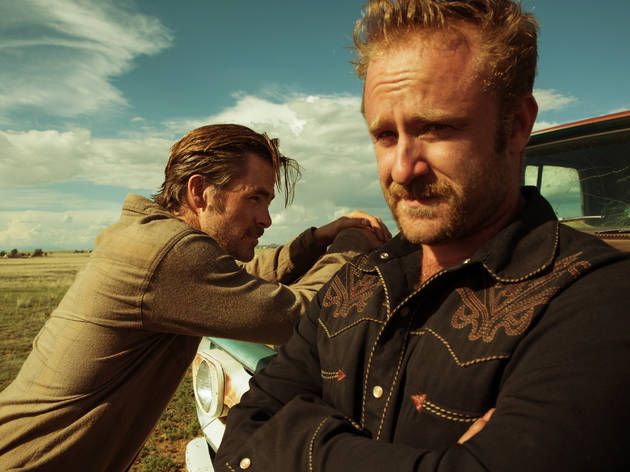 The spine of this dusty Texas crime story is well-worn and cracked, but its simple pleasures hold up.
Ah, Texas: manly men, rusty trucks, desert skies, dusty streets, petty crime, giant hats and rampant gun ownership. This old-fashioned but enjoyable heist thriller rounds up all the creakiest cliches about America's largest state into one handy package, then adds a dash of 21st-century politics for good measure. You've seen it all before—but hell, it's worth seeing again.
Chris Pine and Ben Foster play brothers Toby and Tanner Howard, who we meet midway through an intricately planned bank robbery. Their motivation is initially unclear. Tanner is clearly unhinged but Toby seems like a pretty level-headed guy (though he's more desperate for cash). It's not long before the cops start joining the dots and haul in irascible lawman Marcus Hamilton (Jeff Bridges, who else?) to bring the boys in.
Starred Up director David Mackenzie has clearly studied the Texas noir playbook, so everything here pans out how you'd expect it to, right down to who dies when and who gets away with what. But he's also trying to make a political point, meaning that scenes are often given over to lengthy state-of-the-nation diatribes about the cruelty of the banks and the powerlessness of the little guy. All of which turns out to be inherent in the material, but Mackenzie whacks us over the head with it anyway.
The performances are solid: Foster is a ball of tics and aggression, while Bridges could do this in his sleep. Pine (Kirk in the rebooted Star Trek franchise) is a little too clean-cut to be playing a grizzled roughneck, but he throws himself into the role, swearing and snarling like a pro. The result is a film with a fistful of memorable moments—most of them involving Bridges hurling insults at people—but not a great deal new to say.
Release details
| | |
| --- | --- |
| Rated: | R |
| Release date: | Friday August 12 2016 |
| Duration: | 102 mins |
Cast and crew
Director:
David Mackenzie
Screenwriter:
Taylor Sheridan
Cast:
Ben Foster
Chris Pine
Jeff Bridges

Rating Breakdown
5 star:

0

4 star:

0

3 star:

0

2 star:

1

1 star:

0