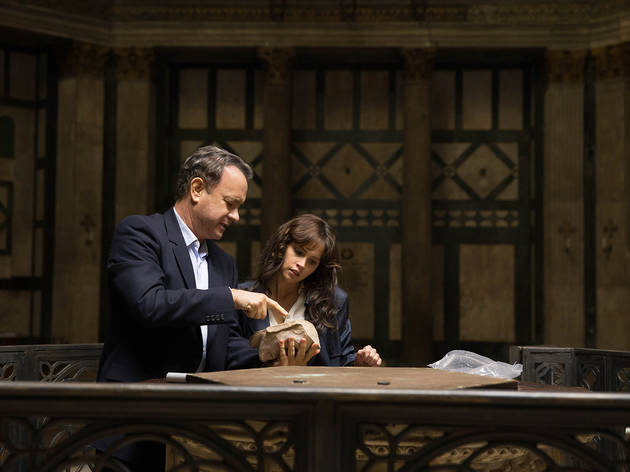 Professor Robert Langdon returns to save the world by reading and stuff.
If Jason can be Bourne again, there's no reason why his gadget-free equivalent, The Da Vinci Code hero Robert Langdon, shouldn't have another crack at the multiplex. In Inferno, the Bourne parallels are harder than ever to ignore: Hang a few more years on Matt Damon's shoulders and exchange his high-tech hacking gear for 16th-century paintings and kids' party treasure-hunt clues, and they're basically the same franchise. It doesn't help that Langdon spends most of the movie suffering from Bourne-ish amnesia.
This time around, a deadly virus is set to wipe out half the world's population unless Langdon and his plummy scholar-turned-surgeon sidekick Dr. Sienna Brooks (Felicity Jones) can get to it first. On their trail is a gang of heavily armed World Health Organization operatives (since when did the WHO have heavily armed operatives?) and a shadowy consortium led by ace fixer Harry Sims (Irrfan Khan, having so much lip-smacking fun, he almost rescues the movie).
Inferno starts well as Langdon wakes, bleeding and confused, in the Italian hospital where Brooks works. He's barely had time to sit up and groan before an armed assassin charges in and starts firing. Langdon hallucinates rivers of blood as he and Brooks flee across the city in a hastily hailed cab. But the sleuthing that fueled The Da Vinci Code is halfhearted here. (Langdon solves precisely two clues in the entire movie—and gets one of them wrong.) It doesn't help that the climactic surprise in Dan Brown's best-seller has been weakened immeasurably.
So all that remains is a creaky and underpowered Bourne clone, as our not-so-dynamic duo trundle from one European gallery to another, sharing easily digestible info nuggets about Dante and Botticelli. By the end, even Hanks looks a little bored.
Release details
| | |
| --- | --- |
| Rated: | PG-13 |
| Release date: | Friday October 28 2016 |
| Duration: | 121 mins |
Cast and crew
Director:
Ron Howard
Screenwriter:
David Koepp, Dan Brown
Cast:
Tom Hanks
Felicity Jones
Ben Foster
Irrfan Khan