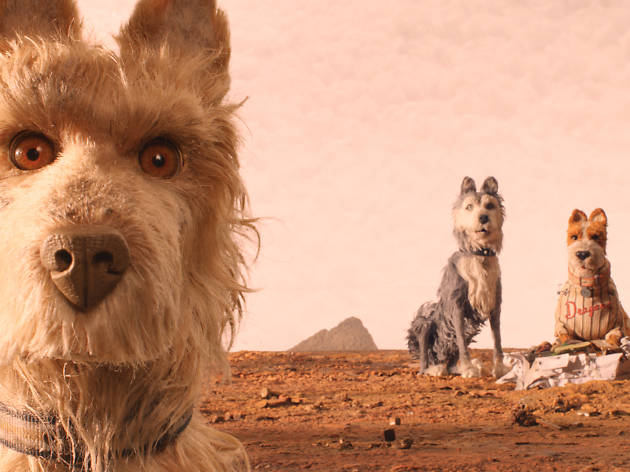 Wes Anderson's second piece of stop-motion animation after Fantastic Mr. Fox brings the quirk (naturally), but weds it to a timely story of refugee camaraderie.
If Wes Anderson's Fantastic Mr. Fox was a slice of whimsy, his latest foray into stop-motion creature features is a more complex beast. Set in a near-future Japan, it's a dystopian, fitfully funny tale in which crusading young people take on a corrupt establishment. But it's mostly about the dogs: Banished from the city of Megasaki after outbreaks of snout fever and flu, cute canines are dumped on Trash Island and left to fend for themselves amid piles of garbage. Their barks are conveniently translated into English for us by a typically Andersonian voice cast: There's a loyal pack led by alpha dog Rex (Edward Norton), gossip Duke (Jeff Goldblum), sports mascot Boss (Bill Murray) and pooch actor King (Bob Balaban). Snarling on the sidelines is Chief (Bryan Cranston), who'll rip your ear off to get to a can of maggots but who slowly emerges as the soul of the story.
Chief's arc kicks in when a 12-year-old Japanese boy, Atari, lands a tiny plane on Trash Island, intent on finding his banished, beloved companion Spots. Depicting the bond between boy and dog is what Isle of Dogs does best, and its focus is oddly affecting. While the film's pace is speedy to a fault, it pauses just long enough to ponder the emotional contract between master and pet.
Bitches, it must be said, are relegated to the sidelines: There's a potential Lady and the Tramp romance between Chief and Scarlett Johansson's ex–show dog Nutmeg, and Greta Gerwig voices an American foreign-exchange student who at least proves that females can own dogs, but this remains a story about man's best friend (emphasis on man). Stylistically, it's all unmistakably Anderson, from the persistent drumming of the taiko drum score to the creaky mechanical cable cars. He milks Japanese culture for humor in ways that feel affectionate if not always respectful; accusations of cultural appropriation won't be easy to shake. But as Fantastic Mr. Fox's curious canine cousin, it's a movie that his fans won't want to miss—as if they could anyway.
Release details
Rated:
PG-13
Release date:
Friday March 23 2018
Duration:
101 mins
Cast and crew
Director:
Wes Anderson
Screenwriter:
Wes Anderson