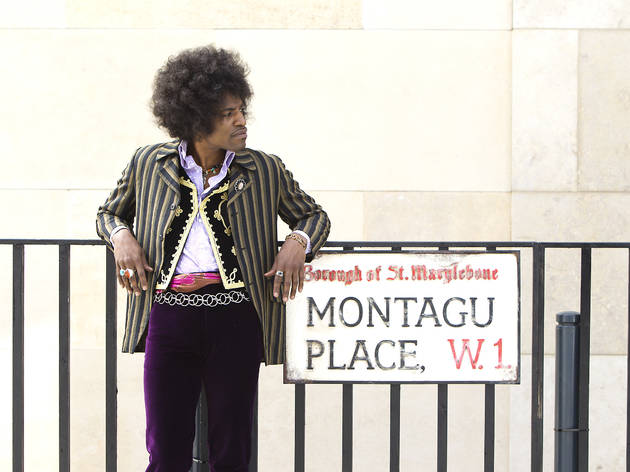 How do you condense a life into two hours? Many biopics go the checklist route—all high points from birth to death, gathered together as if it were just the sensational moments that make someone human. Writer-director John Ridley (Oscar-winning screenwriter of 12 Years a Slave) takes a different tack in his admirable though unrelentingly gloomy and unauthorized chronicle of the great guitarist Jimi Hendrix (André Benjamin, uncannily channeling his subject), which uses none of the man's own music (just covers) but still manages to channel something of his essence.
Right from the first scene—in which Keith Richards's then-girlfriend Linda (Imogen Poots) discovers Hendrix in NYC's Cheetah Club—it's clear that Ridley is more interested in atmosphere than he is in hitting the usual based-on-a-true-story beats. The air is smoky, the dialogue mumbled, and the overall vibe oppressively claustrophobic. It's a chaotic world in which Hendrix is the guy hovering around the edges who, perversely, couldn't give a damn if his well of genius is ever tapped.
At best, Ridley's unconventional choices make it feel like we're hanging out with the musician, sharing his foggy headspace. (The timeline is confined to 1966 and 1967 when a prefame Hendrix lived in the U.K.) Yet even epochal moments like the famed concert at London's Saville Theatre—where Hendrix and his band opened with a cover of the just-released title track from Sgt. Pepper's Lonely Hearts Club Band—are filmed in such a way that they seem wispy and ephemeral, like a dying man's last flashes of life. There's no real pleasure in any of the musical performances. And when married to the scenes exploring Hendrix's tumultuous personal life—particularly his semi-abusive relationship with long-term girlfriend Kathy Etchingham (Hayley Atwell)—you're left with a monotonously grim portrait that's more rewarding in theory than execution.
Follow Keith Uhlich on Twitter: @keithuhlich
Release details
| | |
| --- | --- |
| Rated: | R |
| Release date: | Friday September 26 2014 |
| Duration: | 118 mins |
Cast and crew
Director:
John Ridley
Screenwriter:
John Ridley
Cast:
Imogen Poots
Hayley Atwell
André Benjamin