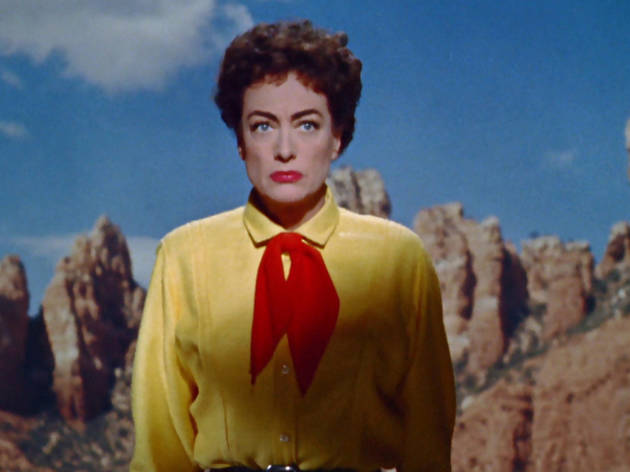 Time Out says
Eat your heart out, Quentin: There's never been a Western this hypnotically chatty.
This being the 1950s, Nicholas Ray's magnificently bizarre Western bore a man's name in the title—as false as advertising gets. Sure, the dude's in the picture: a cryptic, lantern-jawed wanderer with a six-string slung across his back. Johnny (Sterling Hayden) wants no trouble, just a smoke and a cup of coffee. He says as much to the surly saloon denizens he meets, in an opening scene stretching well past the 30-minute mark.
But Johnny Guitar is owned by its women. It comes to life as soon as Joan Crawford stands over the fray, nostrils flaring, eyes unblinking. She's Vienna, the bar's proprietor, and the weird siren of Ray's psychosexual adventure. It didn't connect with critics at the time, but the film has gone on to gather fans, like François Truffaut, Martin Scorsese and Pedro Almodóvar, who luxuriated in its strangeness.
Why has the movie stuck around? As luridly fruity as The Wizard of Oz, yet cut with several jiggers of conversational cool, Johnny Guitar is the kind of filmgoing experience that can turn audiences into creative dream partners. It's not just Joan's campiness—her line readings take on an almost incantatory quality—but the way the whole thing feels like a stealth therapy session for smart actors trapped in horse-opera stereotypes.
Ray would pull off a similar magic act with teenagers in Rebel Without a Cause, and between the two films, you can see Hollywood's facade slipping off its moorings. There's a quiet fury to Johnny Guitar, best embodied by Mercedes McCambridge's vicious Emma, who wants to drive Vienna out of town. It's a film that climaxes with a gunfight between two women, while the men hide behind tree stumps.
Follow Joshua Rothkopf on Twitter: @joshrothkopf
Details
Release details
Rated:
N/R
Release date:
Friday November 13 2015
Duration:
110 mins
Cast and crew
Director:
Nicholas Ray
Screenwriter:
Philip Yordan
Cast:
Joan Crawford
Royal Dano
Scott Brady
Sterling Hayden
John Carradine
Ward Bond
Ernest Borgnine
Ben Cooper
Mercedes McCambridge

Users say