Jumanji: Welcome to the Jungle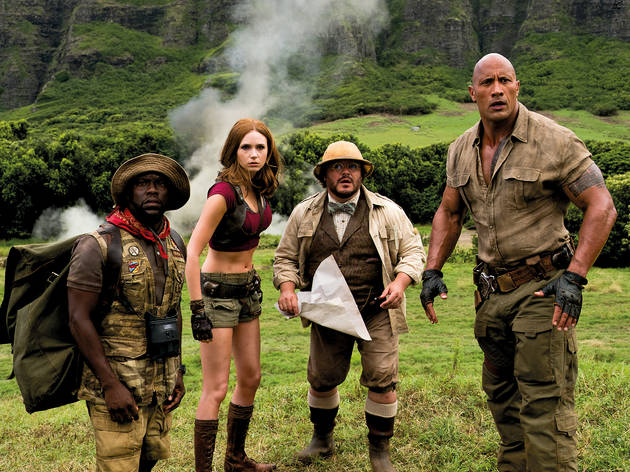 A Christmas surprise, this '90s revival packs more than its share of self-referential laughs.
The plot of Jumanji: Welcome to the Jungle feels less like a sequel to the Robin Williams movie about the magical board game and more like The Breakfast Club, upgraded with body-switcheroo comedy and some retro Indiana Jones thrills. It follows four high-school stereotypes sentenced to detention—jock, popular girl, nerd, brainiac—who find an old video console that sucks them into its jungle hell. Trapped inside the game, the gang find themselves in the bodies of its avatars. So the popular girl becomes Jack Black's portly palaeontologist, the dorky kid is endowed with Dwayne "The Rock" Johnson's mega-biceps, while brainy girl Martha is transformed into kickass heroine Ruby Roundhouse (Karen Gillan). Humiliatingly, the jock turns into the wimpy sidekick (Kevin Hart).
Welcome to the Jungle is mostly great fun, with Jack Black outrageously entertaining as a teenage girl. But we need to talk about Karen. As Ruby Roundhouse, Gillan is stuck in less clothes than one of Rihanna's backing dancers. It's a dig at the hypersexualization of women in video games, apparently. If so, perhaps the male director (or one of the four male writers) can explain how fixing the camera on a skimpily dressed female character makes the point.
Release details
Rated:
PG-13
Release date:
Wednesday December 20 2017
Duration:
119 mins
Cast and crew
Director:
Jake Kasdan
Screenwriter:
Chris McKenna, Erik Sommers, Scott Rosenberg, Jeff Pinkner
Cast:
Dwayne Johnson
Karen Gillan
Kevin Hart
Jack Black

Average User Rating
4.5 / 5
Rating Breakdown
5 star:

1

4 star:

1

3 star:

0

2 star:

0

1 star:

0
Are you serious, Cath Clarke? That was kind of the point of Gillan's character and she even made it a point in the film too that she was wearing very little clothes. These kids were ALL the exact opposite in their game character bodies than that of what they were in real life. Martha is a shy girl who would never like showing skin like that, that's why Ruby Roundhouse is showing a lot of skin. You can see all the major contrasts in each character and the body the are trapped in! While I agree that women can be and often are hypersexualized, I think it is important to remember that some women feel more confident and happy when they show off the skin they have. There's nothing wrong with that and I'm fine with your critique so long as you avoid slut-shaming (not saying that you are currently slut-shaming Gillan, though you might be doing that towards back-up dancers).