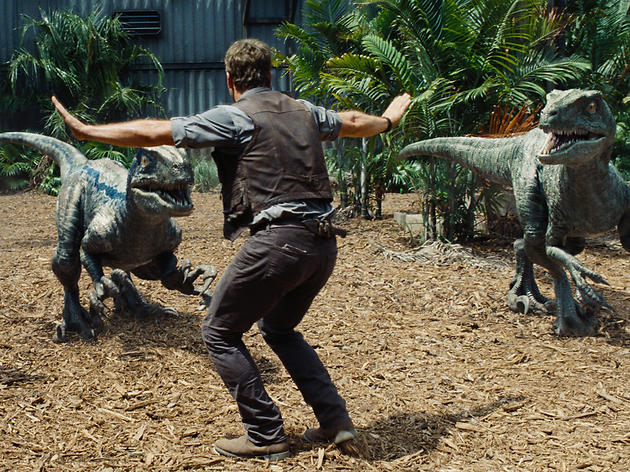 Time Out says
The park's back open, but you won't be awestruck like before
Another theme park, another bunch of knuckleheaded scientists cloned from the same strand of foresight-impaired DNA. Jurassic World has absolutely no reason for being (except for the obvious one), but at least it chomps your time painlessly. Much like the fully functioning tourist attraction that's now flourishing on the haunted grounds of Isla Nublar some 22 years after the first film, the movie exists against logic—white-haired John Hammond would smile at his vision finally realized: a Starbucks, a Pandora, a baby-dino petting zoo, crammed gift shops, huge crowds.
You wait (not too long) for something to go wrong—for some fat kid to get eaten. But apart from a scary Birds-like aerial raid of pterodactyls picking off folks on Main Street, there's little carnage rained down on mall rats. Instead, sequel director Colin Trevorrow (Safety Not Guaranteed) seems content to execute a lesser Aliens: He's got his Ripley figure in Claire (Bryce Dallas Howard), a brittle park manager who blooms into a protective Amazonian mom after a toothy hybrid goes rogue; he mounts generically staged action sequences involving flares and bared shoulders; and he sneaks in an evil military plot represented by an extra-wide Vincent D'Onofrio.
While slickly enjoyable in parts, the biggest misstep here comes by puncturing Spielberg's grandeur. Guardians of the Galaxy's Chris Pratt, playing a jokey animal trainer who lives in a trailer, turns vicious velociraptors into docile dogs (a crime against classic cinema). Meanwhile, John Williams's majestic trumpet fanfare is redeployed not at the sight of a towering brontosaurus, but at the spectacle of the park itself, packed to the gills with faceless, hopefully nonlitigious attendees. Subtly, the movie celebrates money, not science, and its own stubborn resilience.
Follow Joshua Rothkopf on Twitter: @joshrothkopf
Details
Release details
Rated:
PG-13
Release date:
Friday June 12 2015
Duration:
124 mins
Cast and crew
Director:
Colin Trevorrow
Screenwriter:
Colin Trevorrow, Rick Jaffa, Amanda Silver, Derek Connolly
Cast:
Chris Pratt
Bryce Dallas Howard
Jake Johnson
Vincent D'Onofrio