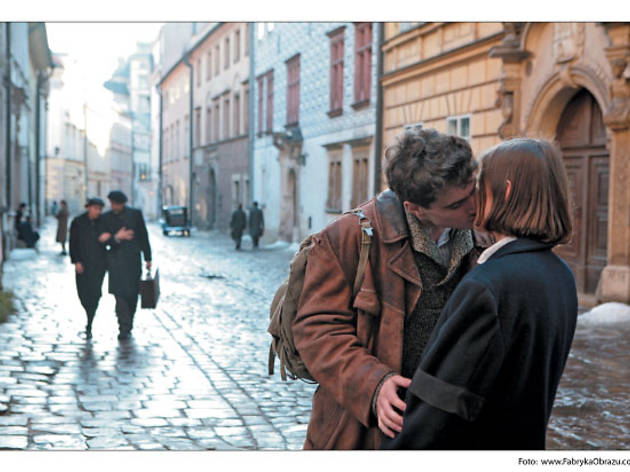 Katyn is big cinema—sweeping, epic and, truth be told, a lot like other WWII films. That's not to sound glib. A real-life tragedy is being excavated here: the 1940 execution of thousands of Polish professors and officers by Stalin-directed secret police in the woods outside Smolensk, Russia. (It took 50 years for Mikhail Gorbachev to even admit to his country's role in the massacre.) From the moment of Katyn's release in Poland's theaters, it's been a runaway hit, almost a national purgation of pain.
But perhaps because we Americans are used to seeing painful episodes schmaltzified by Hollywood, this sincere drama, easily the most sumptuous Polish film to date, feels generic. The director is Andrzej Wajda, the 82-year-old master who honed his country's cinema to its sharpest edge in the 1950s with movies like Ashes and Diamonds. This is a victory lap for him. But the Wajda of Katyn has eased into gestures that would shame Spielberg: a teary-eyed moppet yelling "Daddy" after a receding train; captive soldiers singing in bruised solidarity; reams of historical data shoehorned into awkward dialogue.
To know that Wajda's own father lost his life in the Katyn forest is to expect a sense of personal connection that, in truth, isn't up there on screen. He seems to be weighed down by the importance of the project; plot strands afford little emotional purchase. Only the brilliant Polish composer Krzysztof Penderecki truly gets the tone right, lending his shuddering, revulsed cellos to a concluding sequence that's difficult to watch. Stanley Kubrick used Penderecki for The Shining; Katyn is a horror movie as well, but a too-dutiful one.
Release details
Rated:
NR
Release date:
Friday February 20 2009
Duration:
118 mins
Cast and crew
Director:
Andrzej Wajda
Screenwriter:
Andrzej Wajda, Wladyslaw Pasikowski, Przemyslaw Nowakowski
Cast:
Maja Ostaszewska
Artur Zmijewski
Andrzej Chyra
Danuta Stenka