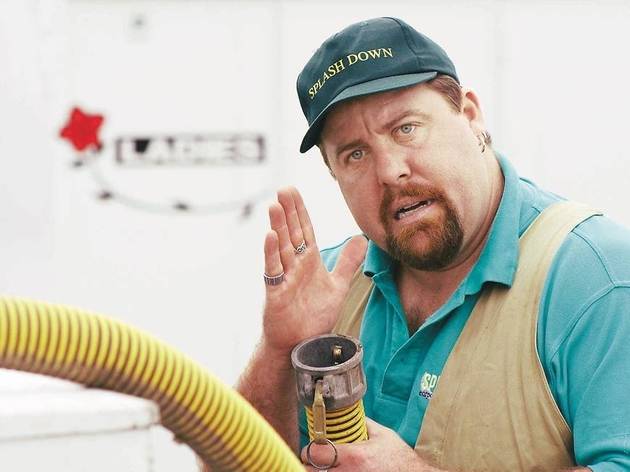 Kenny is probably the best possible movie you could make based on a single, relentless shit gag. The titular hero (played by Shane Jacobson, who cowrote with his brother, director Clayton) is a genial Australian lug who rents and cleans port-a-potties for a living. (If you're serving curries, he recommends ordering extras.)
In deadpan mockumentary format, Kenny expounds on the glories of his craft. No, it's not as glamorous as being a fireman. ("No one ever wants to come and see what you do," he admits.) But it's also more secure than a desk job. ("It's not like my business is ever going to dry up overnight!") You might not be surprised that the brothers Jacobson first dove into these waters in a short. Predictably, efforts to pass the 40-minute mark—a convention in Nashville, a family camping trip—show unfortunate signs of clog.
Still, it's one thing to make a movie about a guy who plunges toilets for a living; it's another to take an empathetic tack. The protagonist genuinely loves what he does, even if few around him feel similarly inclined. (His father, played by the Jacobson boys' actual dad, makes him change clothes before sitting in the house.) The movie's persistent and wholehearted embrace of scatological comedy is sophomoric but somehow daring, and Jacobson's performance approaches the material with all the gusto it needs.
Release details
Rated:
NR
Release date:
Friday July 18 2008
Duration:
92 mins
Cast and crew
Director:
Clayton Jacobson
Cast:
Shane Jacobson
Eve Von Bibra
Ronald Jacobson
Jesse Jacobson
Chris Davis
Ian Dryden
Morihiko Hasebe
Clayton Jacobson