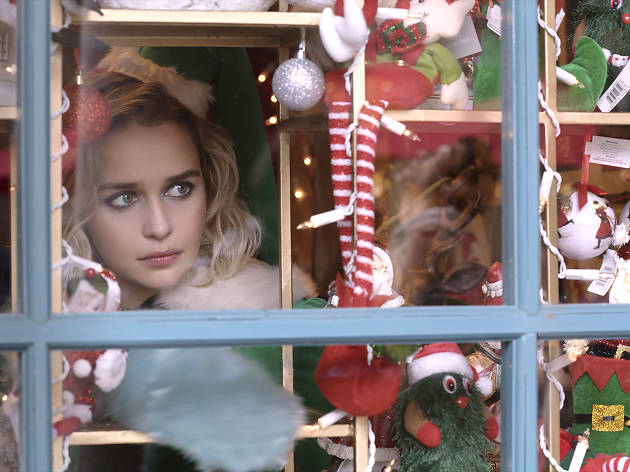 Time Out says
Like a mug of eggnog dosed with a shot of gin, this mostly fizzy Christmas rom-com delivers its cozy message with a side order of cynicism.
If Bridget Jones's Diary author Helen Fielding reworked A Christmas Carol, subbing in her heroine for Ebenezer Scrooge, it might look a little like this good-natured but lightweight rom-com about a struggling twentysomething finding salvation in a handsome stranger. If you can forgive an earnestly delivered but silly third-act twist that the film's trailer telegraphed months ago, and some low-flame chemistry between Emilia Clarke and Henry Golding, Last Christmas is a feel-nice addition to the seasonal canon. It's purpose-built for anyone who's watched The Holiday maybe six times too often.
Clarke plays Kate, a wannabe singer with a deep love for George Michael, humiliatingly forced to dress as an elf while working for the owner of a London Christmas shop (Michelle Yeoh). "I'm not a career elf," she stresses, though given her wrecking-ball approach to life, you suspect she'd be sued for reputational damage by other elves if she were. Enter Golding's mysterious stranger, Tom, a bike courier and a great listener who starts to reintroduce some hope to her life. But who is he? And why does he seem to have only one coat and (yikes) no phone?
Soundtracked by wall-to-wall Wham! and George Michael tunes (several versions of the title song feature, including a couple that amusingly emanate from ornamental decorations in the shop), their burgeoning romance takes in the sights of a picture-postcard city. Barring a notably somber middle-act dip, director Paul Feig (Bridesmaids) handles it all briskly. In the spirit of all good Christmas movies, it's wildly untroubled by geography or realism (strangers talk to each other on an actual bus). And while the film makes a genuine attempt to engage with London's homelessness problem—there's a subplot based at a shelter—and nods toward the challenges of migrants, it's done so in a superficial way that makes Richard Curtis look like Ken Loach.
The dialogue is a blunt instrument at times ("A shitting bird just shat in my eye," grumbles Kate in a not-exactly-Nora-Ephron moment), but when the witticisms dry up, the charm of the cast mostly carries you along. Clarke is engaging as the sarcastic but not quite embittered Kate, a childhood immigrant from the former Yugoslavia. Emma Thompson (who co-wrote the screenplay with Bryony Kimmings) is a hoot as her heavily-accented alpha mom, who keeps memories of the old country alive by wailing folk songs at her daughter. Even Yeoh's sternness takes on a new comic dimension when backdropped by a ton of Christmas kitsch.
If Last Christmas isn't quite irresistible in its emotional moments and the cheesiest bits are borderline indigestible, its effervescence makes it a fun enough watch. At the very least, it'll make you fall hard for its other romantic lead: London.
Details
Release details
Rated:
PG-13
Release date:
Friday November 8 2019
Duration:
102 mins
Cast and crew
Director:
Paul Feig
Screenwriter:
Emma Thompson, Bryony Kimmings
Cast:
Emilia Clarke
Henry Golding
Michelle Yeoh

Users say