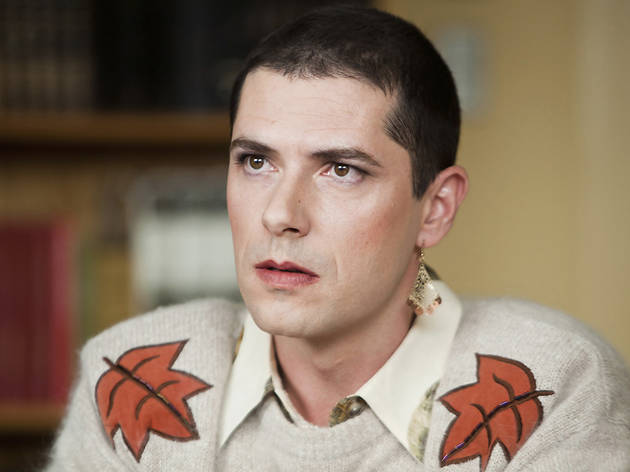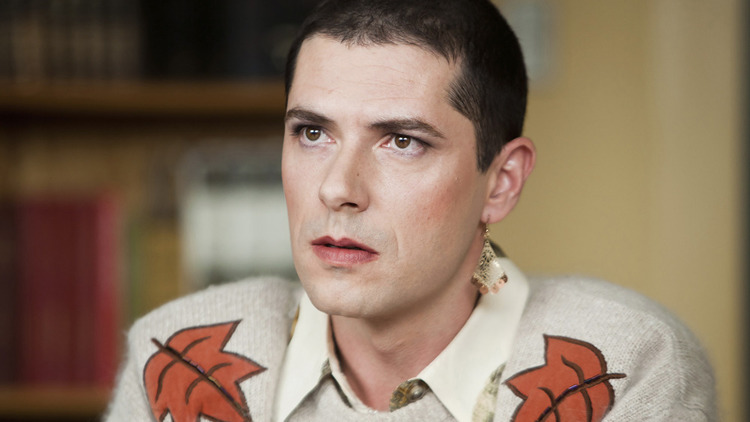 It should surprise no one that Robert Smith, poet and sad sack of the Cure, once wrote a song called "The Funeral Party." Death, a gorgeous sense of decay—these were the guy's wheelhouses. That tune, off the band's 1981 album, Faith, beats its insistent path into the stunningly morose Laurence Anyways, a movie made for our Manic Panic–tinted younger selves. We're in a dance club, the lights swirling in slo-mo: It's the final moment of passion between Laurence (Melvil Poupaud), a svelte lit professor living in Montreal, and red-topped Fred (Suzanne Clément), his goth female partner. They paw each other against an alley wall, but Smith's lyrics won't be denied: "Side by side / in age and sadness." Someone's not happy.
The movie, unspooling over three hours and several well-rendered years of the late '80s and early '90s (the span feels earned), throbs with a teenage ache. But tellingly, it's about two adults sliding out of sync. How hard it is to stay radical, to stay young, when the things we want change over time: Laurence, in his thirties and bored by writing, is certain he was meant to live life as a woman. Admitting this to Fred in the first of many meltdowns, he can see that she only wants to keep going, to keep kissing in car washes and to have her companion be a man.
Refusing to become a comedy (even when it might have helped, after the wigs and lipstick come out), Laurence Anyways turns into a gripping series of confrontations—a melodrama about hidebound principles and body-bound realities. A heartbreaking faculty conference pits Laurence against his colleagues, their support for his intellectual brilliance dwindling to a flicker. They show him the door. Other snubs follow, along with a savage bar beating, and in what may be the scene of the year, Fred refuses to take mocking attitude from a waitress, silverware clattering in a diner as she explodes. The vibe is Five Easy Pieces, but with an impressive added layer of ruined rage. Your audience will rise up and cheer.
Where does the maturity come from to make a transgender epic without resorting to happy endings? Maybe it doesn't take maturity at all: Writer-director Xavier Dolan, already on his third feature at the ripe old age of 24, swaddles himself in a fur-lined confidence last flaunted by the equally young Rainer Werner Fassbinder, also a fearless pursuer of tough truths. Dolan, a proudly out Quebecois who has found his work both banned locally and embraced (he does the voice of Stan in the French-language version of South Park), is clearly in the middle of a burning creative streak. Evidently, he wants to go big—to make the movies that stay with you. But he has never mounted something as ambitious as his latest, a riot of ruffled clothes, strutting defiance and bruised endurance. (A mini-Kubrick, Dolan writes, directs, designs costumes, edits and sometimes acts, but not this time.)
Separation and reconnection are destinations the film gestures to, along with a final flourish that can't last. Tears come in a flood to Fred, now ensconced in a wealthy but loveless marriage, as she interprets secret messages in a book of poems. As ever, they're side by side, in age and sadness. Forgive this film its marvelous moodiness—someone needs to go there once in a while.
Follow Joshua Rothkopf on Twitter: @joshrothkopf
Release details
| | |
| --- | --- |
| Rated: | N/R |
| Duration: | 168 mins |
Cast and crew
Director:
Xavier Dolan
Screenwriter:
Xavier Dolan
Cast:
Nathalie Baye
Melvil Poupaud
Monia Chokri