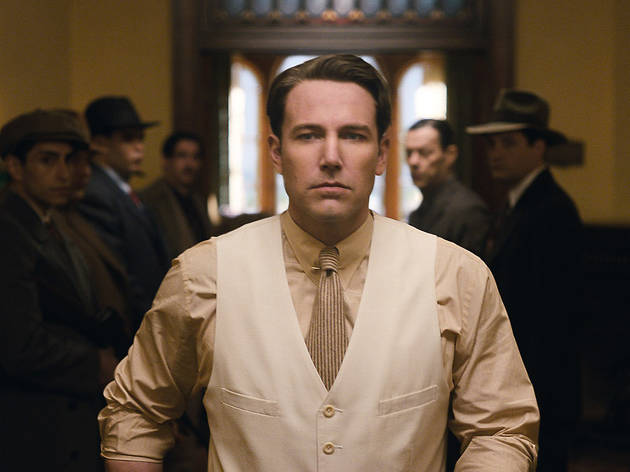 Time Out says
A sumptuously mounted gangster film from Ben Affleck, behind the camera for the first time since Argo, continues his intriguing offscreen career.
Before he slipped on the bat mask, director Ben Affleck was a young Clint Eastwood in the making, telling quintessentially American tales of morality and heroism. With the ably executed Prohibition-era drama Live by Night, he picks up where he left off, drawing from Gone Baby Gone's understated potency, The Town's nail-biter car chases and shootouts, and Oscar-winning Argo's humor and grandiose Hollywood polish.
Chock-full of sturdy fedoras, thick accents and double-crossing mobsters, the resulting film is both remarkably compelling and a bewildering mixed bag. Several impressively scaled yet disjointed set pieces span across the chilly, crime-infested streets of Boston and the swelteringly hot Florida environs overflowing with rum runners. But an overlong set up, where Affleck's character hops in and out of prisons and hospitals one too many times, combined with several implied endings, put a mighty dent in this otherwise competent package.
Affleck plays the invincible WWI-veteran-turned-outlaw Joe Coughlin, son of a high-ranking cop (Brendan Gleeson) and lover of a notorious mobster's girlfriend (Sienna Miller). Forced to leave Boston once his affair with her takes a disastrous turn, he joins a rival family's alcohol trade in Tampa. While in the thick of illegal operations, he falls in love with the sophisticated Graciella (Zoe Saldana) and faces off with a starlet-turned-preacher (Elle Fanning, reliably scene-stealing) and her corrupt cop father (Chris Cooper), both holding high stakes in Joe's dealings.
Affleck adapted Live by Night himself from a novel by Dennis Lehane, who also authored Gone Baby Gone with its Boston DNA. Watching this crowded field of intriguing players makes you wonder whether an episodic structure à la Boardwalk Empire would have served the material better. Still, there's a lot of cinema to admire here. And being reminded of the directorial talents of Affleck—undeniably a more accomplished filmmaker than an actor—is no minor event.
Follow Tomris Laffly on Twitter: @TomiLaffly
Details
Release details
Rated:
R
Release date:
Sunday December 25 2016
Duration:
128 mins
Cast and crew
Director:
Ben Affleck
Screenwriter:
Ben Affleck
Cast:
Ben Affleck
Zoë Saldana
Sienna Miller
Elle Fanning