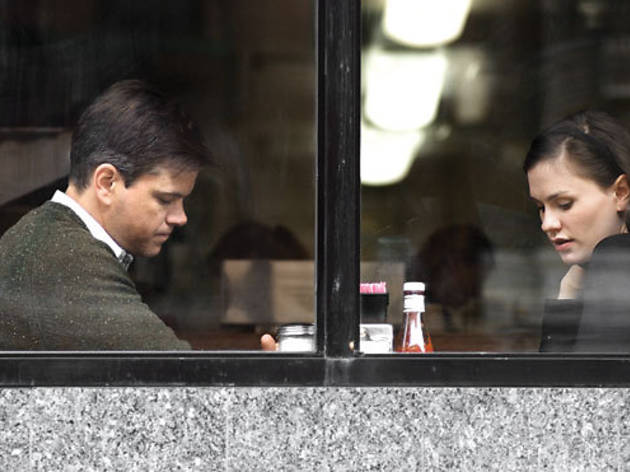 What a glorious mess! Kenneth Lonergan's long-delayed follow-up to 2000's revered brother-sister drama You Can Count On Me finally arrives in theaters with little fanfare and the bitter air of failure around it. Don't believe the scuttlebutt: The writer-director's sprawling look at the effect a gruesome accident has on Manhattan teen Lisa Cohen (Paquin) bursts with ambition and specificity in its novelistic, social-drama narrative. Our attention is grabbed right from the gorgeous slo-mo credits sequence of numerous Gothamites going about their day---not obliviously, but more in a state of expectantly suspended animation. There's palpable unease in the air (very potently post-9/11), and even as Lonergan sets the stage in a few mundane subsequent scenes---Lisa discussing grades with an instructor (Damon) and flirting bashfully with a classmate---this strange sense of tension never dissipates.
Then the accident occurs---a woman, played with one-scene wonder by Allison Janney, gets hit by a bus---and Lisa's life, as well as the movie containing her, goes disturbingly, brilliantly off the rails. The next two hours are the sort of no-holds-barred psychodrama that John Cassavetes specialized in: Lisa pinballs between raw emotional states while a number of vivid supporting characters, from Damon's pushover schoolteacher to a brash Upper West Sider superbly played by Elaine May's daughter Jeannie Berlin, circle her like moths to a frenzied flame. Paquin deserves the highest accolades for her ferociously committed performance, turning what could have been a privileged prep-school archetype into a scorching depiction of adolescent grief. And though not all of Lonergan's conceits work on a scene-by-scene basis (an upper-crust womanizer played by Jean Reno skews a bit too close to caricature), the film has a cumulative power---solidified by a devastating opera-house finale---that's staggering. This is frayed-edges filmmaking at its finest.
Follow Keith Uhlich on Twitter: @keithuhlich
Watch the trailer
Release details
Cast and crew
Rating Breakdown
5 star:

2

4 star:

0

3 star:

0

2 star:

0

1 star:

0
though provoking. indulged characters living in spritual bankrupcy, trying to pose as humanistic and failing to realize that their unjustified rages are simply due to an intellectual blindness to the other side of the story,
How does an unformed adult come to terms with her own mortality after she unexpectedly contributes to the death of a woman and tries to understand her own ethical considerations of the resulting guilt and contrition, when she fails to capture attention from her role models who treat her with indifference? That indifference exposes our own prejudices and complicit silence in failing to judge ourselves in contributing to the abuse and deaths of others, such as the Israeli atrocities against the Palestinians (analogised in a blistering indictment by her mother's boyfriend as "The Jewish Response"). From the opening seconds of the film with its balletic slow-motion walking of pedestrians, we are riveted and know we need to hold on for a jumpy ride. Anna Paquin delivers a disturbing performance of a highly complex, flawed and impetuous character, unformed yet succeeding in forcing us to look at ourselves in the mirror and not liking what we see. The odyssey settles into legal arguments which conflict with her conscience but educate her as to how the real world works. Because of a highly taut, plausible script and direction, superb acting all-round with young Paquin's shattering performance holding the entire film anchored on her shoulders, the ordeal reaches a climax that is spiritual and uplifting in one of the most exquisite cathartic scenes ever seen on film: As our own eyes fill with tears in tandem with those of Margaret and her mother's as they watch the gondelier's Barcarolle from the opera the Tales of Hoffman; Both embrace as Margaret reaches expiation, understanding and love. It is a heartbreaking scene and the film deserves to be called a masterpiece. Those who dislike to be criticized for their complicit silence in the deaths of others will always find fault with this film, but their indifference is the point. In co-produing this film, Sydney Pollack should be remembered as one who courageously refused to remain silent or indifferent.