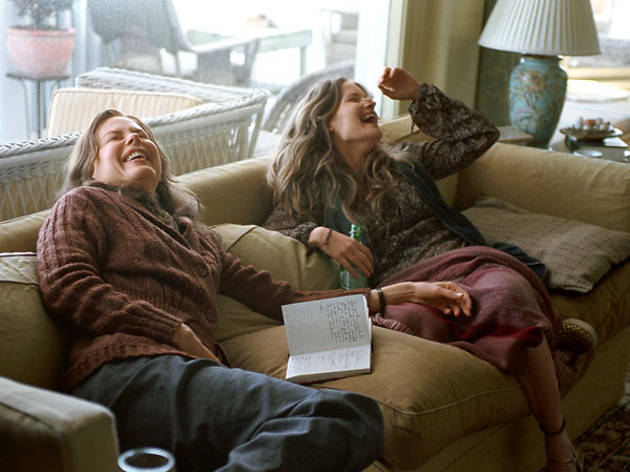 Steeped in a familial bitterness that would make even John Cheever uncomfortable, Noah Baumbach's follow-up to 2005's The Squid and the Whale retains traces of his breakthrough's squirmworthy fixations. In fact, the awkward social fumbling of the new movie's pubescent lad could pass as outtakes from the director's Brooklyn-based film à clef in a pinch. But in terms of complexity, Margot at the Wedding is a leap forward. It's one of the most emotionally mature American movies ever made about emotionally immature people.
Flighty Pauline (Leigh) is getting married to her boorish beau (Black), and after years of mutually cold shoulders, reaches out to her sister Margot (Kidman). A writer with a draconian judgmental streak, Margot brims over with passive-aggressive bile—largely directed at her teenage son (Pais)—so any hatchets will be buried in shallow graves. Things repeatedly take a turn for the worse (to paraphrase Chekhov, if you put a penchant for jailbait baby-sitters in Act I…). Any progress toward healing is accompanied by several baby steps backward.
You can spot the signature Baumbachisms in every cringe-humor exchange, yet his skills as a writer and wrangler of actors have increased tenfold. Black's manic manchild persona is used wisely, and Leigh delivers a typically brilliant bruised-peach performance. Kidman, however, is the one who hits a career high; brittle and needy, her Margot brings out the worst in everybody and the best in a star who's usually just called on to look glamorous or worried.
Release details
Rated:
R
Release date:
Friday November 16 2007
Duration:
92 mins
Cast and crew
Director:
Noah Baumbach
Screenwriter:
Noah Baumbach
Cast:
Jennifer Jason Leigh
Nicole Kidman
Jack Black
Zane Pais
Flora Cross
Halley Feiffer
Ciarán Hinds