Memory: The Origins of Alien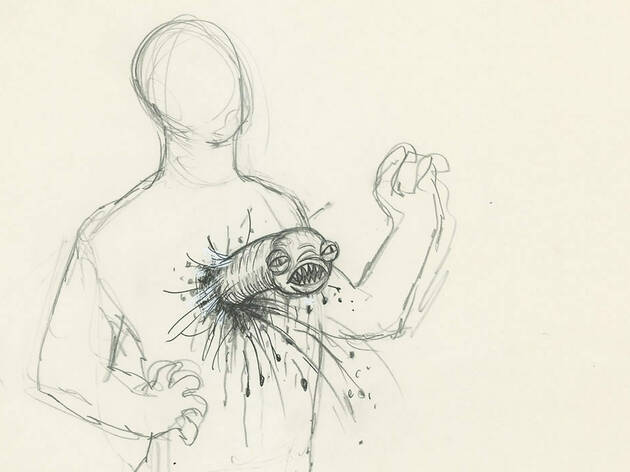 Time Out says
A thoughtful documentary gets under the skin of a sci-fi-horror masterpiece.
Sleek, organic and vicious to the core, Ridley Scott's 1979 Alien is responsible for the most nightmares since Alfred Hitchcock's Psycho—both films changed popular culture on a molecular level and rattled viewers well beyond your typical jump scare. Noticing this, the Swiss-born documentarian Alexandre O. Philippe follows up his rigorous Psycho shower-scene study 78/52 with Memory: The Origins of Alien, a deep dive into the latter's conceptual genesis and production. The movie deserves it; frankly, many DVD extras over the years have trod the same terrain, doling out a scary Francis Bacon panting here, a gender-blind casting decision there.
But Philippe earns his keep, not only by mounting a crisp, elegant production well above the standard of your typical video-lensed making-of, but by skewing toward anecdotes that most corporate clients would frown upon. Late genius screenwriter Dan O'Bannon was a neurotic who suffered from a lifelong case of Crohn's disease ("devouring him from the inside," his widow Diane remembers). Before cracking the script, O'Bannon designed his own board game called Poverty while sleeping on a friend's couch. Somehow his treatment, provisionally titled Star Beast, leapt to the top of producer Walter Hill's stack, even though it essentially turned on an interspecies rape and male pregnancy. "It's wonderful how the subconscious works," an interviewee notes.
Memory is most valuable for its fresh recontextualization of Alien in the same feminist air space as Kramer vs. Kramer and Manhattan, films that vibrate with late-'70s family panic. (It's a shame that Sigourney Weaver isn't interviewed here; even if Philippe hoped to avoid the overanalyzed gender politics of Ellen Ripley, he could have asked Weaver about attending Yale with Meryl Streep and competing for stage roles.) From those divorce dramas, it's only a small skip to "ripping the social fabric of the dinner table" as one talking head puts it—a fine way of describing the movie gloriously primal "chestburster" sequence, now iconic. We linger on the gore, on Scott's cool command behind the camera, on designer H.R. Giger's monsters, and the documentary, while always fun, becomes a slightly lesser thing. The magic trick is so much more powerful left unsprung in its box.
Follow Joshua Rothkopf on Twitter: @joshrothkopf
Details
Release details
Rated:
N/R
Release date:
Friday October 4 2019
Duration:
95 mins
Cast and crew
Director:
Alexandre O. Philippe
Screenwriter:
Alexandre O. Philippe
Users say