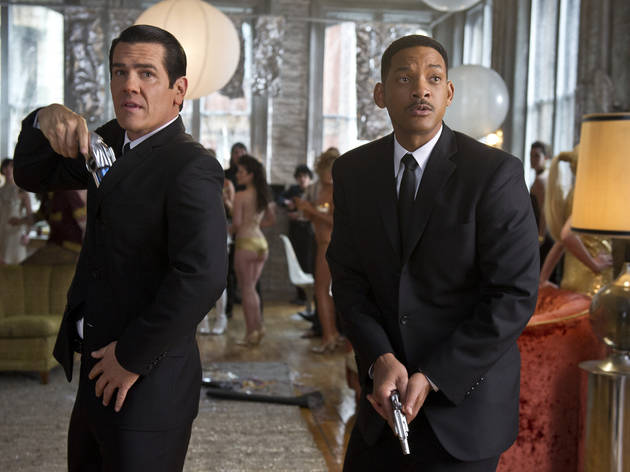 Sure, we remember the 1990s: the era in which sarcastic gab between ironic, interracial partners in dark suits and skinny ties was elevated to an art form. The first Men in Black (1997) wore its Tarantino-meets-Spielberg sunglasses proudly, yet the concept was already feeling tired—and glibly out of sync with the new fear—by the time Will Smith and Tommy Lee Jones saddled up for the much-reshot 2002 sequel.
Apparently, it's okay to be nostalgic again, especially when the emotional payoff is this big—a wonderful surprise. Men in Black 3 resuscitates not only Smith's lagging humor (his Carrey-esque rubber face returns in full force) and Jones's crankiness, but also the relatively lost virtues of clever, cyclical time-travel scripting (à la Back to the Future) and a willingness to trust in an audience's grasp of basic history. After Agent K (Jones) is mysteriously wiped out of existence, Agent J (Smith) must go back to 1969—the journey is a dazzling Chrysler Building leap through time, falling past bankrupt Black Tuesday jumpers and WWII parade confetti—to reconnect with the younger version of his partner (Josh Brolin, a fast study) in a racially tense America.
Don't worry. The movie isn't a civics lesson. We're still talking gooey splatterings of lasered alien dripping from the ceiling, plus a terrifically neurotic villain, the bearded Boris the Animal, courtesy of Conchord Jemaine Clement. You do sense, though, that the people behind MIB3 (mainly veteran producer Walter F. Parkes and script doctor David Koepp) were smart enough to let the audience grow up a bit, enough to get the Andy Warhol jokes and one brilliantly weird creation, a delicate alien who can see every outcome at once. He's sort of like the screenwriter, but also the hyperaware audience member; the acknowledgement is endearing.
Follow Joshua Rothkopf on Twitter: @joshrothkopf
Release details
| | |
| --- | --- |
| Rated: | PG-13 |
| Release date: | Friday May 25 2012 |
| Duration: | 106 mins |
Cast and crew
Director:
Barry Sonnenfeld
Cast:
Alice Eve
Will Smith
Tommy Lee Jones
Emma Thompson
Josh Brolin

Rating Breakdown
5 star:

0

4 star:

0

3 star:

0

2 star:

1

1 star:

0
You know, M.I.B. actually has a different meaning...it means "Mutual in Bed", and it's awesome...try a search for it on youtube!