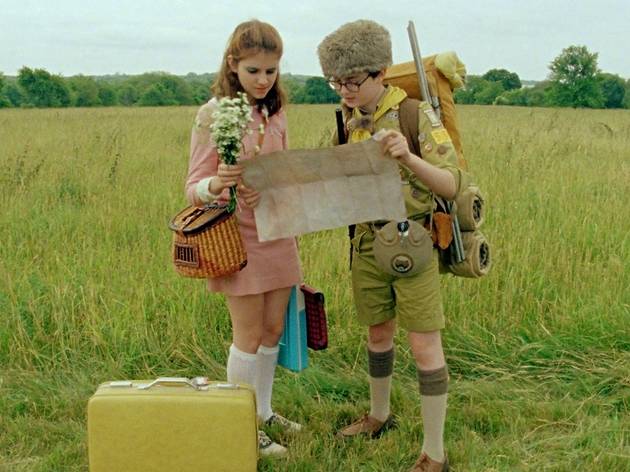 Time Out says
Back into the Wes Anderson toy chest we go. The dapper auteur behind such idiosyncratic and polarizing works as The Royal Tenenbaums and The Darjeeling Limited opens his latest feature, a continuously surprising and delightful adolescent romance set in 1965, in what appears to be a dollhouse. Everything down to the miniature chairs and oval area rugs is placed with utmost (some might say fanatical) care, and Robert D. Yeoman's ceaselessly tracking camera takes in all the sights while moving along the usual rocket-science-precise axes. Call it a gift to fans and a riposte to detractors: The cowriter-director (he collaborated on the script with Roman Coppola) gives everyone what they expect up front—all the preciously fussed-over details that are very much in keeping with Anderson's shoebox-diorama aesthetic—and once that's out of the way, life seeps into frame.
As it turns out, this is the human-size residence of Suzy Bishop (Kara Hayward), a dour 12-year-old with sad raccoon eyes who spends her time reading filched library books, listening to Benjamin Britten compositions and peering longingly through an ever-present pair of binoculars. She lives with her unhappily married lawyer parents (Bill Murray and Frances McDormand) and her younger brothers in the small island community of New Penzance, New England (the film was shot off the coast of Rhode Island), where, as a loquacious onscreen narrator (Bob Balaban) stiffly informs us, a devastating storm is due to hit in three days.
Suzy has little time for such concerns; there's enough of a rebellious tempest brewing inside her, which makes her a kindred spirit of outcast Khaki Scout Sam Shakusky (Jared Gilman). They meet, appropriately enough, during a church pageant performance of Britten's biblical opera Noye's Fludde ("What kind of bird are you?" Sam pointedly asks his soon-to-be sweetheart), and strike up a yearlong correspondence that ends with them running away into the forest.
Most of the movie's bewitching first half details the duo's adventures as they work their way toward one of New Penzance's seaside inlets, avoiding capture by the melancholy local police captain (Bruce Willis), an inept scout leader (Edward Norton) and Sam's own armed-to-the-teeth troop. Anderson is fully in his element, lending a storybook quality to the lushly verdant setting, while still maintaining a very real sense of danger. Even in the most idyllic sequences, as when Suzy and Sam do a hilariously awkward Badlands-esque beachside dance to a Françoise Hardy pop song, the threat of physical and emotional violence is always present, and does occasionally erupt. (One stunning shot of a crimson-stained pair of scissors reveals what will always separate Anderson from his many second-rate imitators: His characters bleed.)
After the adults catch the young lovebirds, the film becomes more frenetic and scattered, a disappointing, though not ultimately damaging loss of focus. Tilda Swinton pops up as a too-cartoonishly villainous character named Social Services, and there's some scout-troop sneaking around that comes off as a weak-tea cousin to the jailbreak climax of the director's stop-motion-animated Fantastic Mr. Fox. But there's also plenty that moves the spirit in that uniquely Andersonian way, from the endearing amateurishness of young newcomers Hayward and Gilman (their natural fumbling is perfect for a story about naive first love) to the stellar support lent by Murray, McDormand, Norton and Willis, who each convey a lifetime of concealed hurts with every gesture and deadpan-absurd line reading.
Like its obvious antecedents (François Truffaut's Small Change or Louis Malle's Zazie dans le Métro), Moonrise Kingdom is a story of childhood viewed from a wizened vantage point. A lesser movie would attempt to set the two precocious protagonists on a grown-up path, or alternatively posit the characters' callow smarts as an enlightened state of mind for all to aspire to. But as shown by its spectacular sturm-und-drang finale (imagine the church-steeple confrontation in Metropolis as directed by Dr. Seuss), Anderson's romantic fantasia is after something much more complicated and profound—an ever-renewing balance between the hopes of youth and the disappointments of age.
Follow Keith Uhlich on Twitter: @keithuhlich
Details
Release details
Rated:
PG-13
Release date:
Friday May 25 2012
Duration:
94 mins
Cast and crew
Director:
Wes Anderson
Screenwriter:
Wes Anderson, Roman Coppola
Cast:
Bill Murray
Owen Wilson
Bruce Willis
Edward Norton