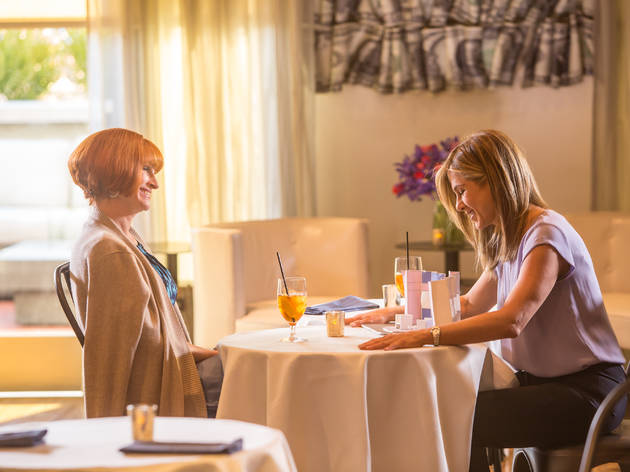 Another holiday, another cringingly bad ensemble drama from Garry Marshall.
In the grand tradition of Garry Marshall's Valentine's Day and New Year's Eve, here comes the director's latest star-filled cash grab centered around a nonreligious holiday. Like Marshall's previous efforts, Mother's Day is captured in a series of intersecting vignettes that achieve the schmaltz and predictability of Love Actually without any of the charm.
The flick's misbehaving brats—ahem, mothers—are played by a who's who of romantic-comedy fixtures, Jennifer Aniston, Kate Hudson and Julia Roberts. Unfortunate plot strands abound: Roberts brings her most severe eyebrows—and a sad-looking recycled wig she wore in Notting Hill—as a childless career woman who learns that true happiness can only be achieved through propagating the human race. Meanwhile, Hudson is saddled with the role of a lying housewife who feels the need to reconnect with her bigoted Texan mother.
More? Aniston's Sandy spirals after she learns her ex-husband (Timothy Olyphant, smirking even as his child is taken to an emergency room) has married a younger woman. As a result, Sandy talks to herself with such a ferocity and frequency—abusing her surroundings as she shouts her own insecurities in hotels, parking lots, parties, etc.—that, had this been another movie, the real story would be that of an affluent woman's descent into homicidal madness. Come to think of it, that sounds like a much better ticket to gift any mom than this one.
Release details
Rated:
PG-13
Release date:
Friday April 29 2016
Duration:
118 mins
Cast and crew
Director:
Garry Marshall
Screenwriter:
Tom Hines, Matthew Walker, Anya Kochoff
Cast:
Britt Robertson
Jennifer Aniston
Julia Roberts
Timothy Olyphant
Kate Hudson