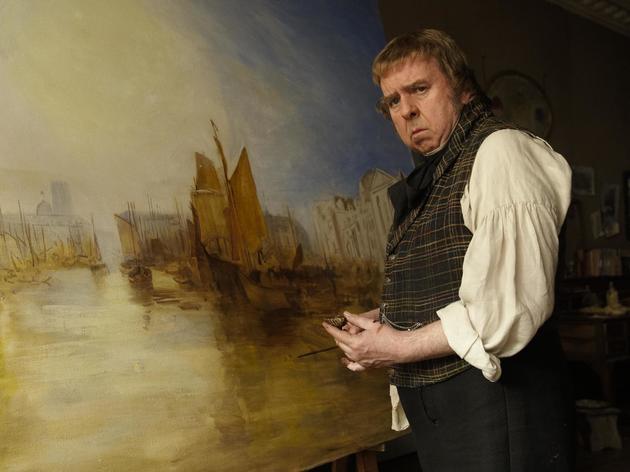 Twice before, first with Topsy-Turvy and then with Vera Drake, Mike Leigh has punctuated his bittersweet studies of contemporary life with period dramas. Now, with Mr. Turner, the British director of Naked and Secrets & Lies takes us back to the 19th century and the later years of the celebrated, groundbreaking, difficult painter J.M.W. Turner (1775-1851). Sad and joyful, Mr. Turner offers a wonderfully rich tapestry of experience, digging deeply into a complicated, contradictory life.
Timothy Spall—a veteran of Leigh's films—plays this eccentric, determined London bohemian like a bronchial, cantankerous, randy old toad with a bad back. He grunts and grimaces and gropes through life. Leigh, meanwhile, explores Turner's life unburdened by any sense of purpose other than an intense, contagious fascination with this man, his work and, increasingly, the inevitable, slow, irresistible trudge toward death.
We observe Turner's fondness for his elderly father; his sexual relationship with his meek housekeeper (Dorothy Atkinson); his rejection of his children and their mother; his arm's-length acceptance by the lions of the Royal Academy; his late-life relationship with a Margate widow (Marion Bailey); and the mockery of the crowd when his work turns experimental. "Vile" and a "yellow mess" concludes Queen Victoria at an exhibition. The presence of royalty in a Mike Leigh film is just one of its many welcome surprises. Mortality hangs heavily over Mr. Turner, which covers roughly 25 years and is a poetic, brilliantly choreographed patchwork of moments and episodes. The film often has a wistful, regretful air, but alongside sadness sits great joy—there are moments of wicked humor.
All of this is engrossing and evocative, and the sense of time, place and period is unusual and beguiling. But what makes Mr. Turner doubly fascinating is the mystery at its heart: What defines an artist's relationship with his or her subject? Can it be explained? Can you trace clear lines between the creator and the work? They're impossible questions. So what Leigh does is sketch the emotional ties between Turner and the places he paints (less frequently, the people). He bursts into tears while sketching a young prostitute. He ties himself to the mast of a ship in the rain. He strides across a hilltop ruin as five wild horses gallop by.
Our sense of what inspires Turner as an artist comes less from watching him work (the film is pleasingly light on scenes of the artist at his easel) than from a series of astonishing, time-stopping shots of land and sea. Leigh and his cinematographer Dick Pope essentially create a series of filmed paintings that celebrate the spirit of Turner's work, and these reflective, quiet moments have great power.
Mr. Turner is a long-cherished project for the director. It's impossible not to equate the ideas in the film about working and living as an artist with reflections on the filmmaker's existence: finding time for a personal and family life; negotiating patronage; feeling strongly about the work of contemporaries; tolerating critics intellectualizing your work. But if Leigh is in some ways holding up a mirror to himself, that doesn't distract from the larger mirror he holds up to Turner and his time.
Not only do we end up with a vivid, surprising and soulful sense of one artist, but Leigh also offers us a commanding view of a city, London, and country at the dawn of the modern age—and of a man being overtaken by new technologies such as photography and the railways. As ever with Leigh, Mr. Turner addresses the big questions with small moments. It's an extraordinary film, all at once strange, entertaining, thoughtful and exciting.
Release details
| | |
| --- | --- |
| Rated: | R |
| Release date: | Friday December 19 2014 |
| Duration: | 150 mins |
Cast and crew
Director:
Mike Leigh
Screenwriter:
Mike Leigh
Cast:
Timothy Spall
Marion Bailey
Dorothy Atkinson

Rating Breakdown
5 star:

0

4 star:

0

3 star:

1

2 star:

0

1 star:

1
JFreimann The reviewer for TURNER neglected to mention that you can't understand a word of dialogue.
my classmate's mother-in-law makes $81 every hour on the computer . She has been fired from work for 5 months but last month her paycheck was $17181 just working on the computer for a few hours. have a peek here
===============
www.jobsEG.com
==============