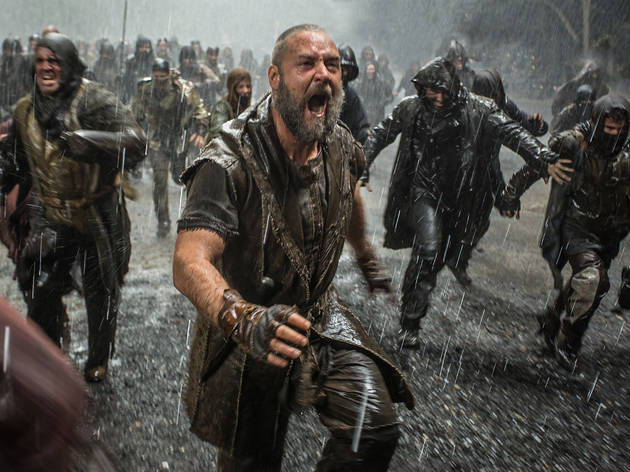 Time Out says
Even the unfaithful know the elements: a world drowning in sin, a Heaven-sent deluge, and a massive vessel (containing two of every animal) waiting out the flood for 40 days and nights. What you might not know about are the rock Transformers.
First things first, however—which is to note that Darren Aronofsky's big-ticket retelling of the biblical legend of Noah (Russell Crowe, so damn serious) is a wildly stupid, yet still train-wreck-fascinating piece of work. The jaw drops early and often, right from an opening dream sequence in which man's fall from grace in the Garden of Eden is presented (laughable digital snake and all) like one of the quick-cut drug montages from the director's Requiem for a Dream (2000).
Noah's vision, though, is different—one not augmented by narcotics but sent by the "Creator" (the film's offense-tempering euphemism for God) to warn his gruffly subservient acolyte that a cleansing cataclysm is afoot. With the aid of his 1,000-years-young grandfather Methuselah (Anthony Hopkins) and follow-you-anywhere spouse Naameh (Jennifer Connelly), Noah comes to realize that his head trip is a divine call to build that fabled ark.
The massive barge of wood and pitch is a spectacular piece of production design that Aronofsky has trumpeted as adhering to the original biblical specifications ("300 cubits long, 50 cubits wide and 30 cubits high"). Props for realism, I suppose, as well as for the alternately verdant and burned-out landscapes—entrancingly photographed by Matthew Libatique in both Iceland and upstate New York—that give a vividly grimy portrait of prediluvial earth.
Yet the bad decisions far outweigh the good: Start with those rock Transformers, towering stone-covered creatures known as "Watchers," who speak in the stentorian bassos of Frank Langella, Mark Margolis and Nick Nolte. They're meant to be a fantastical representation of the fallen-angel race known as Nephilim, but they come off like rejects from a Peter Jackson superproduction who are mainly there to up the fanboy-kewl quotient. (Aronofsky proves himself extremely ill-suited to battle scenes, so Clint Mansell's histrionic score picks up the slack by offering plenty of speaker-shattering gooses.) There's also a bunch of time-marking melodrama between Noah and his family—specifically some contrived silliness about his son Ham's search for a suitable mate—as well as a head-slappingly overcooked performance by Ray Winstone as villainous stowaway Tubal-cain.
The large-scale bombast neuters the riskier religious elements, aside from a mid-movie sequence that gorgeously and provocatively visualizes the seven days of Creation in sped-up stop-motion. It's here that Aronofsky launches his only stinging salvo, presenting a making-of-the-universe that denies neither evolution nor an intelligent guiding hand, and is sure to piss off plenty of bloviators on all sides of the spectrum. But it's a lone exception in a movie that otherwise makes an oft-told story pompous instead of poetic. By the time that olive-branch-bearing dove perfunctorily flies by, we've witnessed a simple parable sunk by its own blockbuster ballast.
Follow Keith Uhlich on Twitter: @keithuhlich
Details
Release details
Rated:
PG-13
Release date:
Friday March 28 2014
Duration:
138 mins
Cast and crew
Director:
Darren Aronofsky
Screenwriter:
Darren Aronofsky, Ari Handel
Cast:
Emma Watson
Russell Crowe
Jennifer Connelly
Anthony Hopkins
Ray Winstone