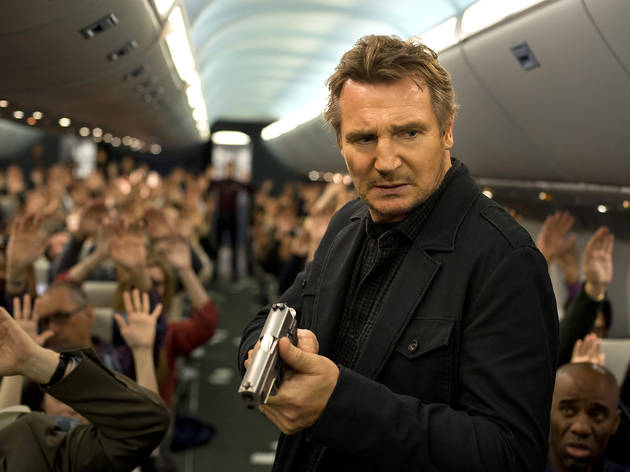 Bill Marks (Liam Neeson) cuts a pitiable figure: three-day stubble, disheveled apparel, boozy stink-breath. He draws plenty of wary eyes as he walks through the airport to catch a flight to the U.K., but not from the TSA agents, who barely give him a glance. That's because this towering sad sack is a federal air marshal, the one assigned to guard the plane. You surely know where this delightfully trashy thriller is headed, and director Jaume Collet-Serra, who previously worked with Neeson on the amnesiac Euro-thriller Unknown (2011), doesn't waste time with the getting-to-know-yous. No sooner has Marks settled beside inquisitive seatmate Jen (Julianne Moore, having a blast) than he gets a series of texts from a mystery terrorist who promises to kill a passenger every 20 minutes until they receive $150 million.
The setup is dynamite and the follow-through entertainingly dumb, as long as the film keeps the unseen villain and his/her motivations in the dark. It's a pleasure to watch Neeson work an alcohol-addled variation on the imposing asskicker he's cultivated since 2008's Taken. Marks has a very particular set of skills that leaves plenty of necks and noses broken, but he also has a hard-luck backstory (confessed in a grin-inducing scene that manages to be both silly and sublime), giving him just the right amount of gravitas.
Collet-Serra fills the souls-on-board manifest with a variety of eclectic faces—everyone from 12 Years a Slave's Lupita Nyong'o to increasingly ubiquitous character actor Corey Stoll. He also makes terrific use of his set, deftly rendering close-quarters smackdowns and several expertly executed one-shots. Would that the climax lived up to the tension-filled first two thirds. Let's just say that Non-Stop reaches for some pointed post-9/11 political commentary that almost entirely exceeds its grasp. Total brainlessness, in this case, would have been a virtue.
Follow Keith Uhlich on Twitter: @keithuhlich
Release details
| | |
| --- | --- |
| Rated: | PG-13 |
| Release date: | Friday February 28 2014 |
| Duration: | 106 mins |
Cast and crew
Director:
Jaume Collet-Serra
Screenwriter:
John W Richardson, Christopher Roach
Cast:
Liam Neeson
Julianne Moore
Anson Mount
Corey Stoll
Lupita Nyong'o