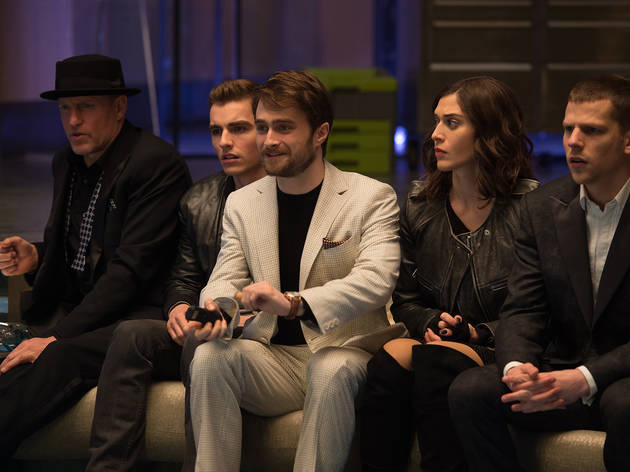 Smirking globe-hopping illusionists return for a sequel we wish we could make disappear.
Even louder and more rambling than its ludicrous predecessor, Jon M. Chu's excruciatingly incoherent Now You See Me 2 once again follows the rogue magician group the Four Horsemen through their ostentatious escapades and faux-liberal endeavors. Forget what trick-debunker Morgan Freeman says: You don't have to see this to believe it (or see it at all). But if you do insist, have some migraine medication handy for headache-inducing hypnosis, partly administered by not one but two Woody Harrelsons—this time he's got a twin brother, doubling the dim-witted humor.
That's not the only update to the cast. In Isla Fisher's absence, the Horsemen's sole female spot is filled by the overeager Lula (Lizzy Caplan). Sure, a line of dialogue owns up to this gender imbalance, but whether that's to clear the screenwriters' conscience or flip the female audience off, we're not sure.
The plot? There's an excess of it, and yet none to speak of. Living in hiding after a series of Robin Hood–esque robbery stunts, the group reemerges in China's Macau to steal a chip for a tech billionaire (Daniel Radcliffe, surrounded by crude Muggle magic). It's a complex scheme that eventually leads to a deafening London finale and every Edward Snowden fan's wet-dream: digital privacy, not the strongest dramatic climax.
Even the one memorable sequence—in which the troupe dexterously pass around a playing card during an extended heist—lacks the Ocean's 11 sophistication the film is after. Now You See Me 2 routinely chases its own tail, debunking the audience's spell at every turn.
Release details
Rated:
PG-13
Release date:
Friday June 10 2016
Duration:
129 mins
Cast and crew
Director:
Jon M. Chu
Screenwriter:
Ed Solomon
Cast:
Mark Ruffalo
Lizzy Caplan
Daniel Radcliffe
Jesse Eisenberg