Percy Jackson and the Lightning Thief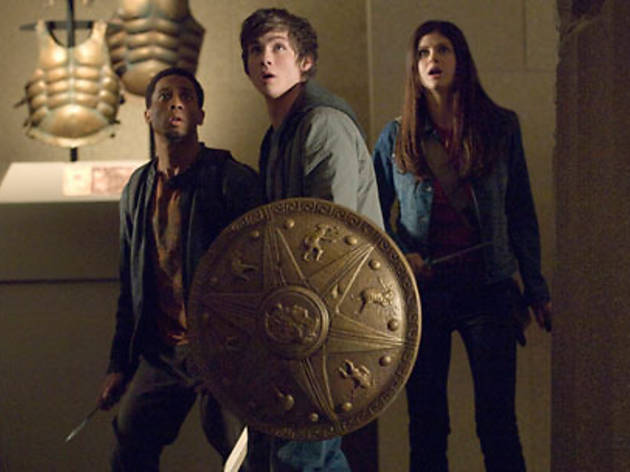 Following a disastrous incursion into bubblegum high-school romance territory (I Love You, Beth Cooper), Chris Columbus returns to his comfort zone for this mirthless, episodic fantasy saga based on the young-reader book series by Rick Riordan. Mashing together the angsty adolescent intrigue of the "Harry Potter" films (Columbus directed the first two installments) and the frigid-and-proud flag-waving of Twilight's teenybopper epics, the film focuses on the underachieving Percy (Zac Efron look-alike Lerman), who discovers he's really a sword-swinging demigod; this is what happens when your birth was the result of the god Poseidon having a quick fling with a dowdy New York housewife (Keener). When Hades (Coogan) kidnaps Mom as a bargaining chip for Zeus' lost lightning bolt, Percy is charged with finding trinkets scattered across the country in order to avert a crisis on Mount Olympus and save his human kin from eternal damnation.

That Percy risks life and limb to preserve the family unit is typical Columbus, and the film works best when playing on the idea that no amount of bravado is enough to mask our desire for parental love. Yet it's not enough to compensate for the computer-game-style plotting, which relies on us to pick up narrative nuggets that mechanically slot in like puzzle pieces later on. And then there's the rampant product placement: Apparently, if you're locked in a life-or-death struggle with Medusa (Thurman), you can avoid her deathly gaze by using an iPod's shiny backside as a mirror.

Release details
| | |
| --- | --- |
| Rated: | PG |
| Release date: | Friday February 12 2010 |
| Duration: | 119 mins |
Cast and crew
Director:
Chris Columbus
Cast:
Logan Lerman
Uma Thurman
Pierce Brosnan
Catherine Keener