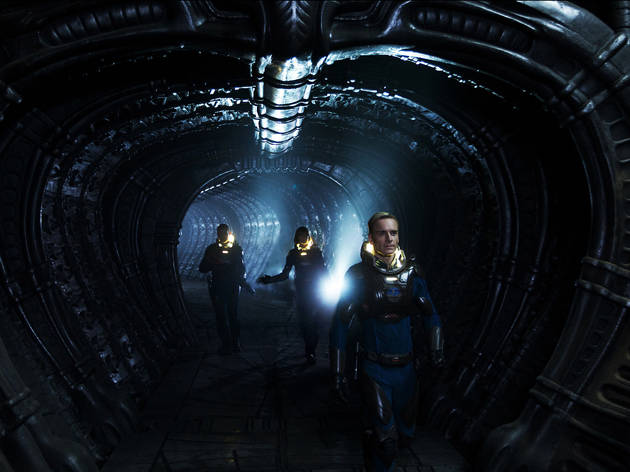 Over the course of Ridley Scott's 35-year film career, crammed with gladiators, tough women and duelists of all species, he's had exactly one good idea—more of an organizing principle, but let's be kind. Simply put: Grandeur can be enough in itself. The bedrock of Scott's reputation consists of two pop masterpieces, Alien (1979) and Blade Runner (1982), essentially a haunted-house shocker and an L.A. noir, but made with such stylish solemnity, they've become more influential than Jaws or Star Wars. And just as serious Beatles fans appreciate the discipline of Revolver over the band's subsequent watershed, Sgt. Pepper's Lonely Hearts Club Band, Scott's mote-fogged monster movie, Alien, has had more resonance than Blade Runner—prophetic as a piece of retro-futurism but not a landmark of yuck.
Prometheus returns Scott to the primal, black-ribbed universe of the former—yes, it's a prequel, and that should have been a selling point, not some coy marketer's secret. Even while the confused new film begins in the earthly setting of a cascading waterfall (where a humanoid with enviably ripped abs contributes his DNA to the primordial soup), you're counting the seconds before a space-bound crew is defrosted thousands of years later from those cool-looking coffins for a debriefing on its mission: Find the origins of us.
Going for the ride is Elizabeth (Sweden's Noomi Rapace, the original dragon-tattooed girl), a fearless anthropologist who, along with her boyfriend, has faith in suggestive cave paintings. There's also David (Michael Fassbender), the helpful-but-icy android, a fixture of the franchise. Predictably, he possesses a fickle agenda that at one moment has him watching Lawrence of Arabia for grooming tips, at another, poisoning an unlucky soul with microbial goop. Meanwhile, Charlize Theron's company woman looks upon all with I'd-rather-be-at-Pilates contempt.
The setup is familiar—the mysterious planet, the slick tunnels, the shocking bodily violation, the broken quarantine, etc. So why is there a gaping hole where the dread should be? The script, partly credited to Lost's Damon Lindelof, is so filled with talky lectures about divinity (and boner plot holes) that you realize, with embarrassment, that Scott, at age 74, wants to join the cosmic company of Terrence Malick. Does he not think that making a drum-tight horror film was ambitious enough? Instead, we're forced to ruminate on the motivations of the ancient "engineers," when the one engineer who really needed to be on deck takes a coffee break.
Calling Prometheus—or any Ridley Scott movie—gorgeous is the stingiest of compliments (he's the director who was able to make the original Macintosh computer sexy). So let's point out specifics that quicken the pulse. Croaking from underneath a vat of old-age makeup, Guy Pearce is a remarkably sinister quest-funding billionaire. And there's a doozy of a gross-out, a computer-aided cesarean section that produces a squalling, tentacled mess, the near-mother-to-be quickly stapled shut by robotic arm. You laugh at the ridiculousness of it all, the brusque efficiency of the procedure, until it occurs to you: If Scott wanted another Alien so badly, couldn't he have torn it out, quick, simple and dirty, like we all hoped?
Follow Joshua Rothkopf on Twitter: @joshrothkopf
Release details
Rated:
R
Release date:
Friday June 8 2012
Duration:
124 mins
Cast and crew
Director:
Ridley Scott
Cast:
Charlize Theron
Idris Elba
Guy Pearce
Michael Fassbender
Logan Marshall-Green
Noomi Rapace

Rating Breakdown
5 star:

0

4 star:

0

3 star:

0

2 star:

0

1 star:

2