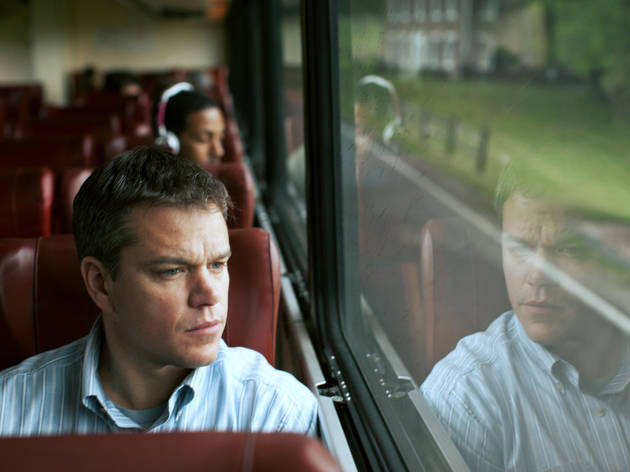 Time Out says
Steve Butler (Matt Damon) isn't a bad guy. Oh sure, he may work as a corporate lackey for a natural-gas company that wants to frack the hell out of economically depressed U.S. farming communities. But as the son of a grower himself, he's so aw-shucks personable it's infectious, and—for good measure—he makes sure to say, "I'm not a bad guy" to many of the people he meets.
Gus Van Sant's didactic drama, by contrast, is quite a bad movie, though it takes a little while for that to become evident. When Steve and his business partner, Sue (Frances McDormand), arrive in the rural Pennsylvania community that is their company's latest target, the film revels in atmosphere more than plot. There's a real feel for small-town dynamics: The local watering holes seem populated by genuinely weathered homesteaders as opposed to central-casting extras. And you get a vivid sense of who's running the show (Hal Holbrook's science teacher being the whip-smart exemplar) versus who's putting on airs for the big-city bigwigs.
But the moment John Krasinski's mischief-making environmentalist shows up, Promised Land becomes the kind of earnest, oversimplified big-issues drama that Hollywood loves to foist on audiences as seasonal proof of its serious-mindedness. Egregiously head-slapping scenes become the norm, from Steve's what-have-I-done epiphany at a child's lemonade stand to a cynically calculated narrative-recontextualizing twist that would shame M. Night Shyamalan. Yet worst of all is the way the film ultimately reveals its humanistic setup as a lazy pretext to redeem Damon's big-business apologist through the healing power of nature. He's not the only one who should be put out to pasture.
Follow Keith Uhlich on Twitter: @keithuhlich
Details
Release details
Rated:
R
Release date:
Friday December 28 2012
Duration:
106 mins
Cast and crew
Director:
Gus van Sant
Screenwriter:
Matt Damon, John Krasinski
Cast:
Matt Damon
Frances McDormand

Users say