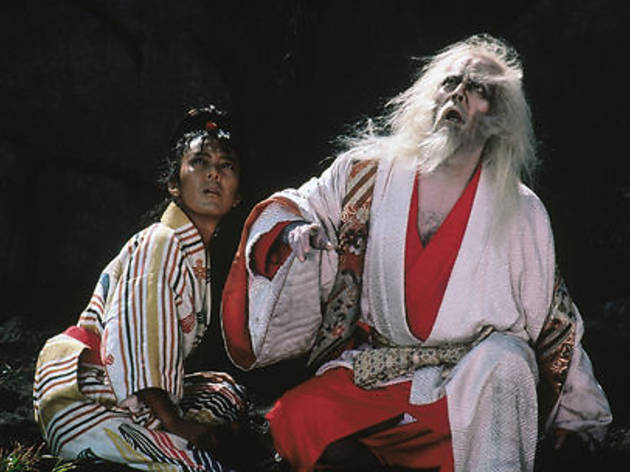 Time Out says
Anyone who's sampled the extraordinary Akira Kurosawa retrospective at Film Forum over the past month can attest to the Emperor's facility with high-lit adaptations, social-issue dramas, pulpy policiers and samurai-cinema classics. Now we get the director's spectacle to end all sweeping J-spectacles: a color-coded chanbara epic that doubles as his last full-throated hurrah.

Kurosawa unleashes not one but two show-stopping examples of sound and fury here: First comes a wordless montage of carnage as deposed Lord Hidetora (Nakadai) is attacked, with Tôru Takemitsu's mournful score substituting for every flaming-arrow swoosh and steel-blade slash. Later, as one of the ruler's sons, Jiro (Nezu), leads his army into battle, the filmmaker stages the surge as a tsunami of red—flags, armor, horses, blood—rushing into a massacre. Both sequences are masterpieces of perfectly choreographed mayhem; not even Kurosawa's sorbet-kaleidoscope palette in 1970's Dodes'ka-den uses bright hues better.
But if Ran offered nothing but dynamic sieges, the movie would be little more than a stalwart presence in those 101 Most Neato Battle Scenes lists. Borrowing elements from King Lear (disgruntled offspring, a holy fool, madness) and Macbeth (Mieko Harada's power-hungry lady of the house), the movie's true force lies in watching a great man destroy himself. Nakadai's Hidetora would be Shakespearean even without the pedigree, a warrior wounded by the toll that a lifetime of violence has taken on his soul. Like all of Kurosawa's work, the human pulse is what drives the drama. Only this time, it's also the drumbeat of an elegy.
Details
Release details
Rated:
NR
Release date:
Friday February 5 2010
Duration:
162 mins
Cast and crew
Director:
Akira Kurosawa
Screenwriter:
Akira Kurosawa, Hideo Oguni, Masato Ide
Cast:
Tatsuya Nakadai
Akira Terao
Jinpachi Nezu
Daisuke Ryu
Mieko Harada
Yoshiko Miyazaki

Users say