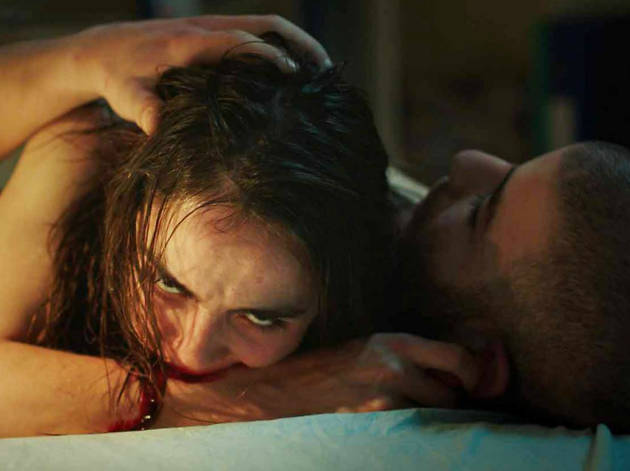 Time Out says
A horror movie that short-circuits its audiences, this vicious, unmissable breakthrough is about a young veterinarian-in-training who becomes a cannibal.
Do you have what it takes to sit through Raw? Last year, a festival screening of this French art-house cannibal movie, directed by 33-year-old Julia Ducournau, turned into a medical emergency when audience members passed out. No ambulances were required when I saw it, but there were lots of nervous giggles before the film and plenty of yelps of horror during the running time.
Raw's stomach-churning ace up its sleeve is how disturbingly realistic the grisly bits are (and there are some very grisly bits). Watching fake blood spurt from a screaming victim in a Quentin Tarantino movie is one thing, but the anatomically correct bite marks and flayed exposed tendons in Raw may send the contents of your stomach to the surface.
It opens with Justine (Garance Marillier), a shy, clever—and vegetarian—teenager arriving at veterinary school, where orientation week involves the ritual humiliation of newbie "rookies" by older students. When Justine is forced to eat a piece of raw rabbit liver, it gives her a taste for flesh. Within hours she's ransacking the fridge and sniffing raw chicken like a feral animal. It's not long before she graduates to the hard stuff.
Raw is a film with things to say about body image, finding your identity as a woman and adapting to life as a grown-up. And vet college, it turns out, is the perfect setting for a horror film. Walk into a seminar room, and you might see a horse drunkenly thumping to the ground, tranquilized by ketamine, or dead dogs on concrete slabs ready for dissection. Ducournau turns even the most innocuous scene into an unnerving endurance test: A Brazilian wax is more gruesome than a hoard of mutant zombies.
Watching Raw is a bit like seeing a toddler crawl toward a four-lane highway. You can't tear your eyes away, but at same time you want to squeeze them shut. This is a film that doesn't just put you through the wringer; it scrapes your insides out. It left me trembling for hours.
Details
Release details
Rated:
R
Release date:
Friday March 10 2017
Duration:
99 mins
Cast and crew
Director:
Julia Ducournau
Cast:
Garance Marillier
Ella Rumpf
Rabah Nait Oufella

Users say