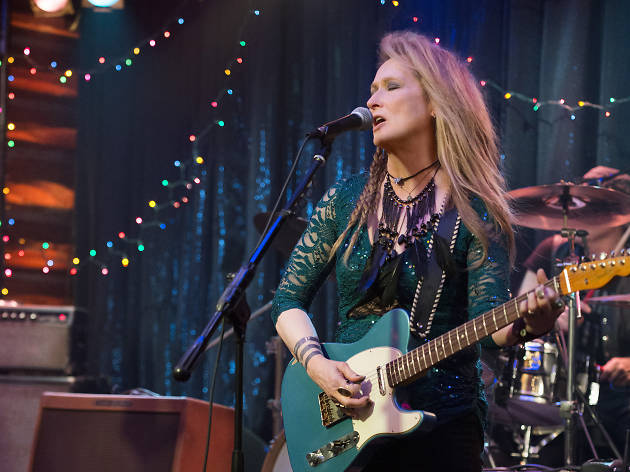 Time Out says
An off-kilter tale of rock & roll redemption from a master of the form.
From Jonathan Demme, a director with an impossibly rich résumé of female empowerment (Married to the Mob), musical euphoria (Stop Making Sense) and failed American dreams (Melvin and Howard), comes a movie that lets him do everything he's terrific at. Throw in Demme's The Silence of the Lambs, too, as scruffy bar-band front woman Ricki Randazzo (Meryl Streep) tears into Tom Petty's jangly "American Girl" with a dead-eyed survivor's stare.
Sarcastic, bitter and chatty, Ricki barely holds onto her corporate grocery checkout job during the daytime, but those liabilities become assets at night, when her local fans howl appreciatively through the hits. Demme's never been a hater, and even as Meryl Streep flings off weird sparks to her grizzled band mates the Flash, there's an underlying realness to her that defies glibness.
This zesty, defiantly awkward shambles of a film might be called a domestic drama, as it plucks its penniless main character from her beer-soaked California stage and sends her to the Midwest to deal with her wealthy ex-husband (Kevin Kline, playing off Streep as tenderly as in Sophie's Choice) and their suicidal adult daughter (Mamie Gummer, Streep's real-life progeny), a victim of Ricki's long-ago abandonment. Tough stares and words await, very much of a piece with screenwriter Diablo Cody's earlier credits, especially the underrated Young Adult, to which this feels a similarly arrested cousin.
But that hardly does justice to a movie that gives Streep her most emotionally blocked character in years, without caricature. She's graced by an angel at her side (Rick Springfield, superb with a touch of gray) and finds her way to the soul of several songs. There's devastating connection and tears in these moments: delicate gratitude in "Drift Away," nothing short of maternal redemption in a roaring version of Bruce Springsteen's "My Love Will Not Let You Down." As the band plays on, you wonder if that's all a film really needs.
Follow Joshua Rothkopf on Twitter: @joshrothkopf
Details
Release details
Rated:
PG-13
Release date:
Friday August 7 2015
Duration:
102 mins
Cast and crew
Director:
Jonathan Demme
Screenwriter:
Diablo Cody
Cast:
Meryl Streep
Kevin Kline
Mamie Gummer
Rick Springfield