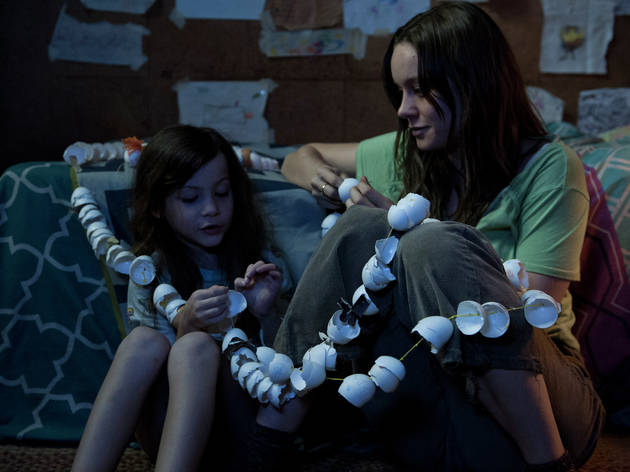 Time Out says
Brie Larson turns in a harrowing performance as a mother abducted and trapped in a tiny space for years.
Room is a fitting title for director Lenny Abrahamson's potent and sensitive film about two characters who spend precious years of their lives trapped in one. But Room is also cruel shorthand for a story about two characters who aren't afforded any. That one word expresses the grand sum of their shared universe, while also intimating the wide spectrum of the things they've been deprived. That duality extends to the eponymous box itself, a decrepit lawn shed serving as both prison and unlikely paradise for the mother and child locked inside.
The full picture emerges slowly, details arriving like the droplets of rain that dribble onto Room's solitary skylight. But it's clear from the start that Joy (Brie Larson) and her preteen son, Jack (the eerily intuitive Jacob Tremblay), are forcibly confined within the gray concrete walls of their grim enclosure. For exercise, Jack tumbles back and forth between two walls. For food, a man referred to as Old Nick delivers the essentials when he slips inside to rape Joy. For sanity, Joy tells her son that "room" is all that separates them from the infinity of outer space, and for survival she'll eventually begin to teach him the truth. (If you want to experience the film without a more explicit indication of what happens next, stop reading here.)
Their inevitable escape makes for a harrowing sequence that exemplifies both the best of Larson's raw-nerve performance and the worst of Abrahamson's technique, which erratically fumbles between zooms and slow motion in its failure to match the primal anguish that flashes on his actor's face. But Room only blossoms into something special after it explodes into the vastness of the world beyond. Faithfully adapted from Emma Donoghue's 2010 novel of the same name, the film reveals its layers when Joy is reunited with her stunned parents (Joan Allen and William H. Macy), who divorced in the wake of her abduction. Forced to resume her role as a daughter, Joy is powerless to reconcile the needle skip of returning to real life with the challenge of introducing her son to it, and Larson's ability to articulate the excruciating limbo of being suspended between two generations is a thing to behold. Feral and maternal (often at the same time), she inextricably knots the petulance of being a child with the responsibility of raising one.
If Abrahamson were as gifted with a camera as he was with his cast (he inspires subtlety even from the tiny Tremblay), Room could have been truly worthy of the astonishing performances that provide its foundation. As it stands, the film is still a heartrending exploration of the worlds that parents create with their kids, the devastation that arises when those mountains move, and the ineffable fulfillment that results from climbing the peaks together.
Follow David Ehrlich on Twitter: @davidehrlich
Details
Release details
Rated:
R
Release date:
Friday October 16 2015
Duration:
118 mins
Cast and crew
Director:
Lenny Abrahamson
Screenwriter:
Emma Donoghue
Cast:
Brie Larson
Jacob Tremblay
Joan Allen
William H. Macy

Rating Breakdown
5 star:

2

4 star:

0

3 star:

0

2 star:

0

1 star:

0