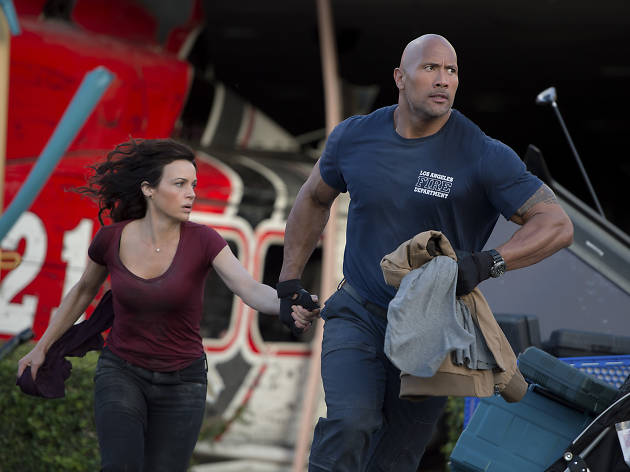 Time Out says
At one point in San Andreas, in which the largest earthquake in recorded history slices and shakes its way through California, Dwayne "The Rock" Johnson parachutes into the middle of a San Francisco baseball stadium with his estranged wife, Emma (Carla Gugino), clinging to his bulging midsection. "It's been a while since we've been to second base" he tells her as they land safely on the field, sharing a chuckle after an afternoon spent watching several thousand people be swallowed into the earth. The disaster movie is back.
A bloodless and boneheaded orgy of computer-generated destruction, San Andreas is the latest work from the visionary director behind Cats & Dogs: The Revenge of Kitty Galore. The story, such as it is, centers around Ray (Johnson), a buff angel sent from heaven to save helpless women who are trapped by, in or under heavy things. A former Army pilot who now flies a rescue helicopter for the city of L.A., Ray is in the cockpit of his chopper when he sees a highway implode beneath him. His first task is to rescue his wife downtown—once that's accomplished, it's off to the Bay Area to retrieve their college-bound daughter (Alexandra Daddario). Lest you think the unprecedented natural calamity won't bring Ray and Emma back together, her sleazy new boyfriend is an architect, and earthquakes sure do hate architects.
Campy but never campy enough and far too numbingly artificial to ever drum up any real suspense or sense of awe, the film has a scale that's squandered on visual witlessness. Despite having the destructive powers of God at his disposal, director Petyon fails to conjure a single compelling set piece. Instead, his movie's appeal is limited to whatever charm Johnson can muster from thin air and the genius of seismologist Paul Giamatti, who gets to look in the camera and say ominous things like "People need to know that the shaking is not over." Sadly, you won't feel a thing.
Follow David Ehrlich on Twitter: @davidehrlich
Details
Release details
Rated:
PG-13
Release date:
Friday May 29 2015
Duration:
114 mins
Cast and crew
Director:
Brad Peyton
Screenwriter:
Allan Loeb
Cast:
Alexandra Daddario
Dwayne Johnson
Colton Haynes