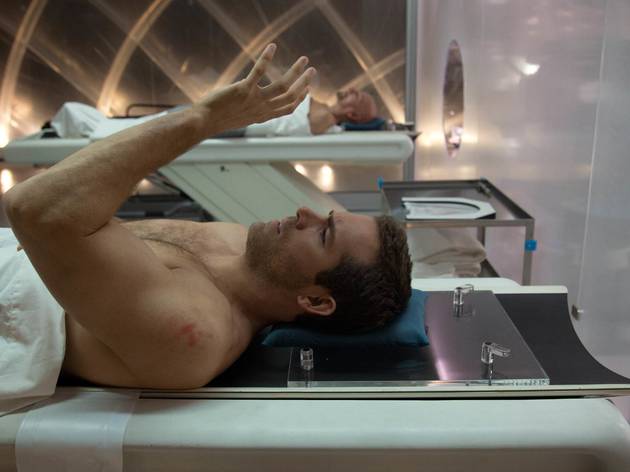 A sci-fi thriller so derivative of John Frankenheimer's masterfully paranoid Seconds it would be more accurate to call it Thirds, Tarsem Singh's Self/less is a generic waste of a clever idea. A resurrection parable that has all the integrity of a grave robber, this frustrating bit of pulp is actually worse than the punctuation of its title might suggest (especially since Face/Off and Crazy/Beautiful gave the forward slash such a good name).
Damian (Ben Kingsley, doing his best Donald Trump impression) is a maliciously greedy real estate mogul who's built half of Manhattan. His empire metastasizes across the city skyline as aggressively as the cancer chewing its way through his body—even the world's richest men are mortal. But that can be hard for them to accept, so Damian doesn't seem quite as surprised as most of us would be when a dashing young stranger named Albright (Matthew Goode) introduces him to the idea of "shedding," an experimental procedure in which a patient's consciousness is magnetically transferred into a hunkier vessel. And so, just minutes after the film begins, Kingsley is swapped out for a confused (and horny) Ryan Reynolds.
The film's fragile premise hinges on Reynolds's ability to connect Damian 2.0 to the person he used to be, but his snarky and suddenly compassionate version of the character doesn't make him feel like a man reborn so much as a man rewritten. It's a fatal flaw that unmoors any intrigue in Damian's quest to uncover the insidious truth about Albright and learn the real cost of shedding (hint: the poor have to suffer for the rich to survive). Singh, an aesthete whose signature visual opulence graced Mirror Mirror and The Fall with a veneer of imagination, feels as lost as his protagonist: An expertly staged shoot-out in the second act only serves to articulate the film's unrealized potential. Tedious and predictable, Self/less is also far too long, and that might be the most damning problem for viewers who only have one life to live.
Follow David Ehrlich on Twitter: @davidehrlich
Release details
Rated:
PG-13
Duration:
0 mins
Cast and crew
Director:
Tarsem Singh
Screenwriter:
David Pastor, Álex Pastor
Cast:
Ryan Reynolds
Matthew Goode
Ben Kingsley
Michelle Dockery