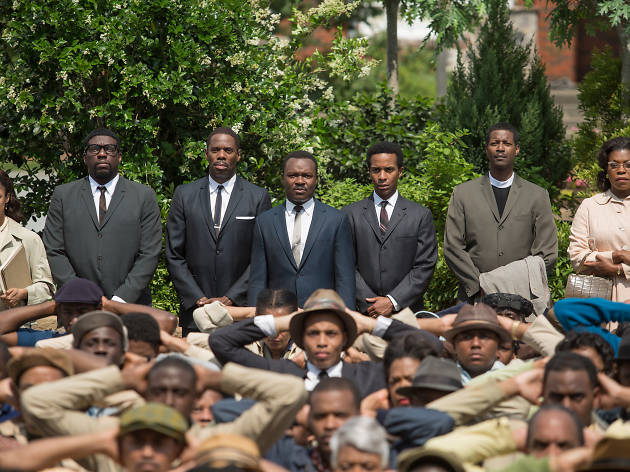 Time Out says
Do we dare watch Ava DuVernay's civil-rights drama as a mere piece of historical re-creation (expert though it is), and not as a newscast of what's happening right now? There's nothing "finished" about the issue of American racism and fittingly, Selma, unlike so many great-man biopics, lures us into a crucible of unsettled arguments and shifting strategies as Dr. Martin Luther King Jr.'s landmark 1965 Alabama march becomes a reality—at a terrible cost. The film plays like a better episode of Mad Men, pitch-perfect in its details yet fully lived-in: a universe of rolled-up shirt sleeves, sweat-laden brows and screams that don't sound canned.
Meticulously researched and elegantly scripted by debuting screenwriter Paul Webb, Selma toggles between moments big and small, though everything feels necessary. The 16th Street Baptist Church bombing in 1963, an act of homegrown terrorism largely responsible for the drive to action, isn't announced so much as eased into, as four impeccably dressed girls descend a stairway, chatting about hairdos. We see King (David Oyelowo) grousing about his fancy tie; attended to by a soothing wife, Coretta (Carmen Ejogo); and trotted out to accept his 1964 Nobel Peace Prize. His work is far from done: Even as his team makes its way down to Alabama to set up headquarters, King's reputation precedes him, as does a punch in the face in the hotel lobby.
Selma truly takes off, though, in its wonky instances of back-and-forth: Oyelowo brings massive conviction to the rousing sermons (bound to electrify the crowd you're in) but is even better in his quieter moments, insisting to worried activists on the need for "drama." The game plan for a 54-mile march through scary backwoods develops over scenes, as does an equally riveting bit of gamesmanship between LBJ (Tom Wilkinson) and racist Alabama governor George Wallace (Tim Roth, transfixing), roughing out a profane bit of compromise that's almost shocking in its pragmatism.
Complex performances dominate the film, playing against the emotional bombast of an Oliver Stone epic. But DuVernay's main achievement is her creation of a mental and geographical state of unrest: of stifling heat, prison-cell doubts and spattered blood. Go now.
Follow Joshua Rothkopf on Twitter: @joshrothkopf
Details
Release details
Rated:
PG-13
Release date:
Thursday December 25 2014
Duration:
127 mins
Cast and crew
Director:
Ava DuVernay
Screenwriter:
Paul Webb
Cast:
Tim Roth
Carmen Ejogo
David Oyelowo
Tom Wilkinson

Users say