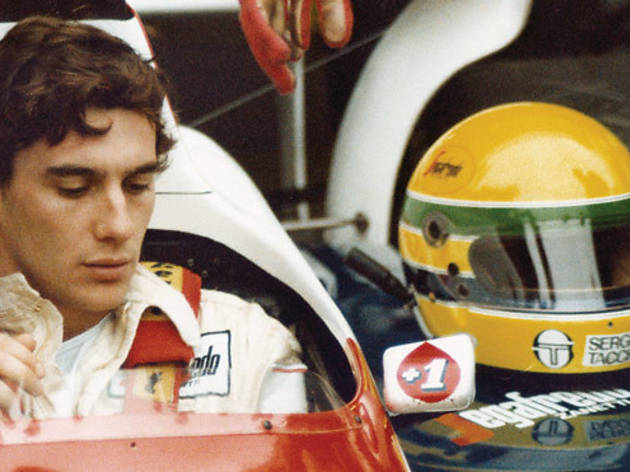 Opening to somber orchestral strains, the phenomenally sad yet exhilarating Senna tips its hand early. A proud father and mother stand next to their handsome son, a race-car driver. A 1983 sports interview is in progress. "We're a little worried," the dad says, "because he will probably race in Formula One." Tight-lipped, he doesn't elaborate. If such grace under pressure weren't enough, Mom adds, "I want to thank him for being such a great son." The opening titles haven't even finished yet.
Asif Kapadia's deft profile of the Brazilian racing legend Ayrton Senna builds to its preordained conclusion, but as with any well-engineered vehicle, it's the drive that matters, not the destination. Like 1996's inspiring Rumble in the Jungle blow-by-blow, When We Were Kings, Kapadia's documentary represents a heroic rescue of archival footage: mist-slick European tracks where the spray lifts up like fog, probing network interviews from the heyday of sports reporting, some material even filmed from Senna's jostled perspective in the driver's seat. The result, chronologically assembled with a minimum of commentary, is surely the most thorough look at the art and passion of auto racing yet made.
That'll be manna to the gearheads in the crowd, but how about the rest of us, cruising down to the multiplex at a comfortable 35 mph? Senna benefits hugely from its articulate subject, born of So Paulo privilege and captured in moments of modest thoughtfulness. "Formula One is political; it is money," Senna notes after a tough second-place loss when the race is called off prematurely. The Brazilian was very much an outsider whose preternatural talent---"a genius in the rain," one newscaster proclaims---couldn't be denied.
Senna also works as a fascinating history of the technology of going fast. We start with minuscule, dangerous-looking go-karts, projecting the rider in little more than a jaunty casing. Soon we're onto the sleek contours of the world's most competitive cars: Toleman, Lotus, McLaren and Williams. Helmeted at the center is our hero, whose sixth-gear stamina and Zen-like communion with his machine becomes the stuff of myth.
Impressively, director Kapadia finds enough variance in the racing material to avoid giving eyeballs the glazed-over NASCAR effect. But his offtrack notes are just as musical: Senna flirting with a TV-celeb hottie during a live broadcast, or sparring with his teammates in uncomfortably tense strategy meetings. On this latter score, the doc has a lip-smacking villain in the form of Alain "The Professor" Prost, Senna's ultra-cool French rival and an intuitive driver in his own right. (They're the racing world's version of McEnroe and Borg, but with far less cordialness.) You couldn't script a more satisfying tale---Senna knows this, and gets out of the way of the onrushing emotions attached to speed, fame, victory and disaster.
Follow Joshua Rothkopf on Twitter: @joshrothkopf
Watch the trailer
Read our interview with director Asif Kapadia
TONY's four favorite racing movies
Release details
Rated:
PG-13
Release date:
Thursday February 24 2011
Duration:
104 mins
Cast and crew