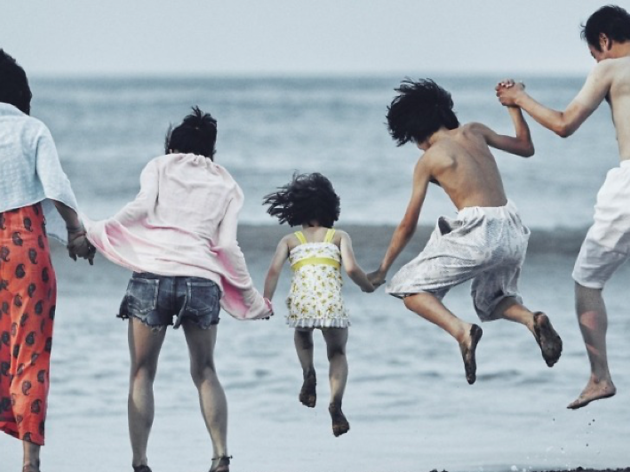 Time Out says
Hirokazu Kore-eda reinforces his status as a modern-day Ozu with another rich humanist drama.
While widely regarded as one of the finest Japanese directors working today, Hirokazu Kore-eda has a somewhat uneven body of work, notwithstanding the fact that his measured pacing, gentle tone and uncluttered visuals make his style unusually distinctive. His best films, almost without exception, have been those about families—real or surrogate—so that titles like Nobody Knows, Still Walking (arguably his masterpiece), and Like Father, Like Son have earned him something of a reputation as an heir to the great Yasujiro Ozu.
If Shoplifters isn't quite up there with his greatest work, it's nevertheless very satisfying. The focus this time around is not on a real family but on a group of impoverished people of various ages living together in a run-down hovel and trying to get by the best they can. Shoplifting is practiced by a middle-aged construction worker and the young boy he treats (and has trained) like a son; the laborer's wife works in a laundry; another young woman performs in a peep-show parlor; while the eldest of this makeshift family lives off her former husband's pension and other more mysterious sources of income. It's not an easy existence, so when a small lost girl is found and brought home, she's initially regarded as yet another unwelcome mouth to feed—until the scars on her body convince everyone that perhaps she shouldn't be returned to her mother and her lover.
The film rewards on a number of levels. First, in depicting, with its fairly plotless narrative, the daily routines of the various characters, it not only offers insights into the shortcomings of Japan's socio-economic system—these people have to resort to theft as a supplement to their work income simply to survive—but into the ways people tend to adapt to any circumstances. Far from an exercise in miserabilism, it shows how the various members of the group find and take simple pleasure in each other's company, in the changing seasons, and in a sense of community. At the same time, however, for all its sweetness, the film never romanticizes its characters: The group doesn't have blood ties, and that may make a difference when things get even tougher. Just as it looks at the ethics of petty crime, so it explores the limits of love and loyalty.
Typically for Kore-eda, the generally becalmed, affectionate tone builds slowly toward scenes that are finally deeply moving without ever being mawkish. Boasting excellent performances all round (with the writer-director once again demonstrating his expertise with children), Shoplifters is another charming, funny and very affecting example of Kore-eda's special brand of tough-but-tender humanism.
Details
Release details
Rated:
R
Release date:
Friday November 23 2018
Duration:
121 mins
Cast and crew
Director:
Hirokazu Kore-eda
Screenwriter:
Hirokazu Kore-eda
Cast:
Franky Lily
Ando Sakura
Matsuoka Mayu
Kiki Kilin
Jyo Kairi
Sasaki Miyu

Users say