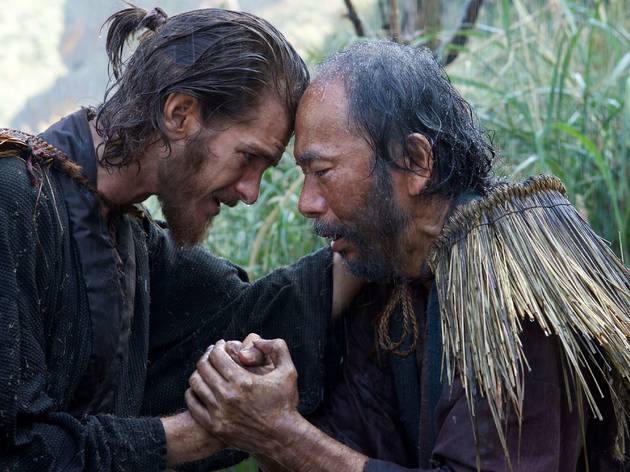 Time Out says
Summoning his deepest conviction, Martin Scorsese transcends his filmography with a tale of Christianity in crisis.
When Martin Scorsese puts away his strutting cocks—his raging bulls, goodfellas and Wall Street wolves—the results can be astounding. This quieter, lesser-seen director is the one who gave us The Last Temptation of Christ (1988), the exquisite period piece The Age of Innocence (1993) and now Silence, a furiously alive and concentrated parable about faith under fire set in 17th-century Japan that ranks among the greatest achievements of spiritually minded cinema. That's the level Scorsese has reached; don't even think he's not capable of it.
Like much of Scorsese's work, Silence is consumed with doubt, ego and sacrifice—this time, of black-robed Portuguese missionaries in a foreign land, one that ends up breaking them. But the refinement here is something else. Based on a 1966 novel by Shûsaku Endô, Silence is a project Scorsese obsessed over for close to 30 years, and you notice that: It looks and feels lean, with no wasted gestures, only inward agony. It's his most mature movie, almost completely free of comic relief yet vibrating with passion and, provocatively, an apocalyptic sense of conviction burning to the ground.
Two bearded Jesuits, idealistic Rodrigues (Andrew Garfield, wet-eyed and soulful) and his sturdy counterpart, Garupe (Adam Driver), make up an "army of two," heading to a Japan shrouded in smoke and mystery. It's partly the terrain of Scorsese's beloved Akira Kurosawa—epics like Ran and Throne of Blood—and partly a natural paradise. (Cinematographer Rodrigo Prieto bathes the imagery in ashen grays and a rare, precious sunlight that struggles to penetrate the gloom.) The men seek their mentor, Ferreira (Liam Neeson), unheard of for years. Even as Silence sets up its simple imbalance of power, between well-intentioned but alien invaders hoping to spread the word of Christ, local potentates who hunt them down as fugitives, and the frightened religious converts in the balance, you can feel it easing toward a larger showdown.
That clash is the one you're waiting for, the one that turns Silence into a powerful, all-time statement on the threatening influence of colonization. It comes after the central pair is dealt multiple setbacks and split in half. Even as Rodrigues languishes in an outdoor prison—there's a strong whiff of Apocalypse Now—Scorsese's pear-shaped screenplay (well streamlined by Jay Cocks) foregrounds unusual internal battles: the purring Japanese inquisitor, Inoue (The Sun's extraordinarily weird Issey Ogata), who sees in his captive a man worth psychologically snapping instead of martyring; and the weak local boatman, Kichijiro (Yôsuke Kubozuka), who pesters Rodrigues for an absolution he doesn't deserve.
Does Silence ultimately hold on to its compassion? Undeniably, but this is a sophisticated film that dares to expose the breadth of cultural division. Scorsese has hit the rare heights of Ingmar Bergman and Carl Theodor Dreyer, artists who found in religion a battleground that often left the strongest in tatters, compromised and ruined. It's a movie desperately needed at a moment when bluster must yield to self-reflection.
Follow Joshua Rothkopf on Twitter: @joshrothkopf
Details
Release details
Rated:
R
Release date:
Friday December 23 2016
Duration:
159 mins
Cast and crew
Director:
Martin Scorsese
Screenwriter:
Jay Cocks, Martin Scorsese
Cast:
Andrew Garfield
Adam Driver
Liam Neeson
Issey Ogata