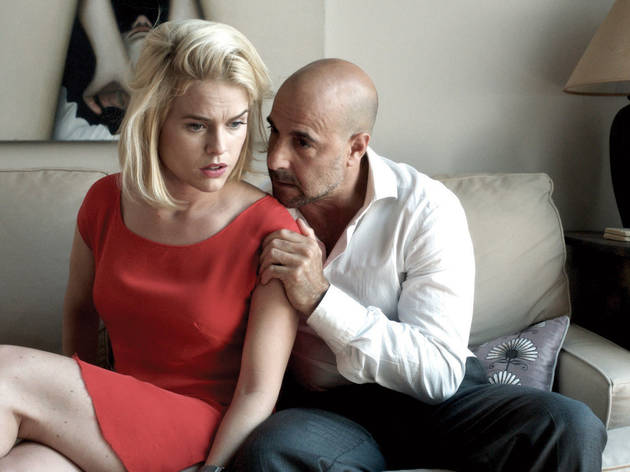 If you've been waiting for the return of the woman-hating, stagebound Neil LaBute from ten or so years ago—well, chances are you haven't. But he's back anyway, with a vicious two-hander built around an escalating encounter between Fred (Stanley Tucci) and Velvet (Alice Eve), the upscale prostitute for whom he's just left his wife.
LaBute has learned plenty in his years as a director, but in Some Velvet Morning he seems to have forgotten it all, or else didn't have the time to put it into practice. The dialogue is the stuff of rapidly closing Off Broadway plays; the camerawork is flavorless and haphazard. Tucci hits every line like he's about to break into a malicious tap dance, and Eve looks as if she was handed her script on the way to the set. As you know it will, their confrontation builds to the threat of physical and sexual violence, and though LaBute pulls the ripcord at the last second, it's not enough to check the film's catastrophic plummet.
Follow Keith Uhlich on Twitter: @SamuelAAdams
Cast and crew
Director:
Neil LaBute
Screenwriter:
Neil LaBute
Cast:
Alice Eve
Stanley Tucci

Average User Rating
4.5 / 5
Rating Breakdown
5 star:

1

4 star:

1

3 star:

0

2 star:

0

1 star:

0
The opening of 'Some Velvet Morning' is like a dream with the camera capturing Alice Eve's figure and surroundings from above as if someone is watching. Yet everything is blurred. The music she listens to with eyes closed, lost in another world is serene and eerie; an indication you're about to follow a story that won't be clear-cut. It should be said that writer/director Neil LaBute, and everyone he surrounds himself with creatively, are masters of their craft, and in this film they're masters of the interiors of a brownstone apartment in New York City. Every minute detail, from the placement of a painting, color schemes from room-to-room, the red silk dress Eve (Velvet) wears, the pin-striped suit on Tucci (Fred), even where actors are placed (at times they too are like objects) makes the entire film a visual delight. Add to that the often hand-held camera movements following actors from stair to sofa, kitchen to corner - an invitation for viewers to become voyeurs. No doubt, the first time you see this film (and you'll want to see it twice so you can back track once you've gotten its ending) you won't know what kind of relationship the two characters really have. Still, you'll be pulled in just enough to want to figure it out, no matter how long it takes. But, the moment you think you understand what's happening, one or both of the characters will say or do something that goes against the plot you've figured out. Frustrating? Yes. In a Hitchcock kind of way. Before seeing this film, it helps to know LaBute's work in order to understand the layers he likes to play with. In his two-person play, The Mercy Seat, Ben and Abby go in and out of discussions about their external circumstances (9/11) to their internal debate (their affair). Here the lines are clearly drawn with the use of sirens and TV noise providing the distinction between 9/11 talk versus relationship talk. LaBute does something similar with his play In a Forest, Dark and Deep, another two-person play. Bobby and Betty, brother and sister, clearly jump from present to past, and back again. Betty tells Bobby one story about the past. Bobby tells Betty another about the present. The two stories collide until the true story finally emerges. The difference in 'Some Velvet Morning' is that Fred and Velvet are having two distinctly unique conversations, simultaneously. There's Fred and Velvet acting like Fred and Velvet, but Fred and Velvet forget that they're acting like Fred and Velvet and all masks are off. Emotions from one conversation overlap with the emotions from another so that viewers, even the characters themselves, aren't sure what's up. Fascinating? Yes. In a Woody Allen kind of way. As is the case for many of LaBute's characters, Fred and Velvet are stuck, and in this film it's because of their professions. But while together in a brownstone, their professions temporarily melt away and the characters afford each other pleasurable and painful opportunities to live out their fantasies at varying degrees. Why Tucci and Eve's performances are so powerful not only has to do with LaBute's ability to swerve us off road for a while, but the actors' ability to express what's going on underneath it all, whether it's with the raising of a brow or the punching of a fist. Precisely why viewers will invest themselves in understanding what it means when Velvet is enamored with, delighted by, tearful over, or fearful of Fred. Or why Fred professes love on one knee, throws an object across the room, or dominates to the point of physical violence. Only until the very end will everything LaBute wrote make sense. And, once the end comes, it is true that nothing was quite as it seemed. However, those lines were intentionally blurred from the beginning making everything just as it seemed – two people not sure of the roles they play in each others lives.
This film is amazing! Definitely for those who are NOT on the "Hunger Games" train. If you enjoy sharp dialogue, top notch actors who are actually ACTING (as opposed to creating a performance through editing); if you like a good bit of sexual power play, sly writing, an unexpected plot twist, luxe cinematography, the feeling of seeing theater on film - then this movie is for you. Neil LaBute writes wonderfully complex characters - both male and female - and dares to take his audience on a ride unlike anything else on screen these days. Sounds like the previous reviewer has a personal problem with Mr. LaBute (that stale bit about "woman-hating"! Puh-lease! Somebody hasn't really read or seen much of his work) and his knocks on Stanley Tucci and Alice Eve are erroneous and just plain uncalled for, but don't let his limited view deter you from seeing this very funny and mischievious bit of game play. This film will get under your skin and linger. I saw it at Tribecca (where the packed house loved it!) and after seeing it again it seems to me a work of roguish genius. Hats off to Neil LaBute, Stanley Tucci and Alice Eve, and thank you for an entertaining evening at the movies.