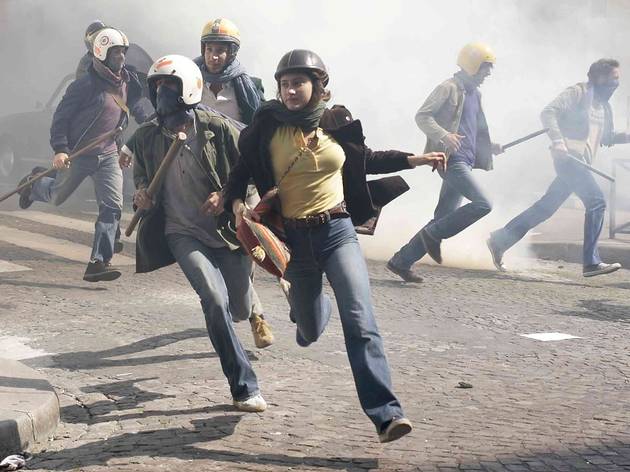 Because this movie follows a group of French teens who, a few years after Paris's violent 1968, carry on the glamorous fight, you expect the title to foretell something dreamy: how naive we once were, etc. But writer-director Olivier Assayas (mining his own wild years) goes in the opposite direction—he might mean Something in the Air literally, with all the pot smoke and well-chosen rock music swirling around. It's a film suffused with the sound of sneaker soles slapping on pavement, and a thick sense of heady, physical proximity. Assayas evokes the atmosphere so vividly, you begin to breathe in his tale, rather than watch it.
That's probably a good thing, because the plot is lax, certainly not as wham-bam riveting as was his terrorist epic Carlos (2010). There's a sweet, fatigues-clad boy, Gilles (Clément Métayer, the director's stand-in), torn by radical politics and a promising bourgeois future after high school; an alluring hippie chick who breaks his heart (Carole Combes); and a new potential soul mate, Christine (Lola Créton), a documentary filmmaker who quickly outpaces Gilles's zeal. Over a generous-feeling running time, the three of them fall in and out of sync, pretending to be okay about it, yet barely succeeding. Even if you don't respond to binge-reading Situationist texts or making bad art in cigarette-strewn studios, there's a universal story here—a social network of friends and a cause that yields to end-of-summer realities.
Follow Joshua Rothkopf on Twitter: @joshrothkopf
Release details
| | |
| --- | --- |
| Rated: | N/R |
| Duration: | 122 mins |
Cast and crew
Director:
Olivier Assayas
Cast:
Lola Creton
Clément Métayer
Carole Combes

Rating Breakdown
5 star:

0

4 star:

1

3 star:

0

2 star:

0

1 star:

0
Great film; compared to anything else I've seen this year or last, five stars, well four-and-a-half. Captures a really interesting period rather well. In the context of what is missing in the political landscape today it is particularly relevant. Don't pay any attention to Bradshaw in the Guardian...