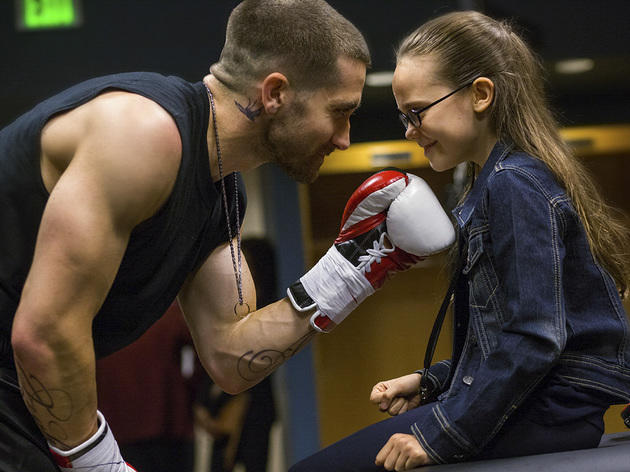 Time Out says
You've already gone several rounds with this plot.
Like a Raging Bull that's been clocked one too many times in the head, Antoine Fuqua's blood-simple boxing melodrama is so loaded with obviousness, it gets more pained groans from the audience than the guys in the ring. A movie that makes Rocky and The Fighter feel like models of complexity, Southpaw is a redemption story—and let's thank screenwriter Kurt Sutter for including the word redemption more than once in the dialogue.
Billy Hope (Jake Gyllenhaal) is an inspiration to fans, transcending his tough upbringing in New York's Hell's Kitchen to claim the light-heavyweight title along with a lovely devoted wife (Rachel McAdams) and luxurious home. It's all quickly taken away from him in the movie's Job-like reversal as an accidental gunshot turns Billy into a drug-abusing widower, his young daughter placed into protective custody. Will he straighten up via some tough love from a scrappy gym-owning coach (Forest Whitaker) and make a lucrative televised comeback? Viewers who have texting to do won't need to look up.
Already, Southpaw is being positioned as an awards-worthy plunge into grit from star Jake Gyllenhaal. He has bulked up tremendously and wears the character's grief like a sweaty robe. But compared to his fast, flinty turn in last year's Nightcrawler, this is simple stuff for him, suppressing the actor's natural craftiness into lugubrious Stallone-isms. The performance is poundingly physical, yet it's set in a fantasy world where family tensions get resolved quicker than jaws hit the canvas.
Details
Release details
Rated:
R
Release date:
Friday July 24 2015
Duration:
123 mins
Cast and crew
Director:
Antoine Fuqua
Screenwriter:
Kurt Sutter
Cast:
Jake Gyllenhaal
Rachel McAdams
Forest Whitaker

Users say