Spider-Man: Into the Spider-Verse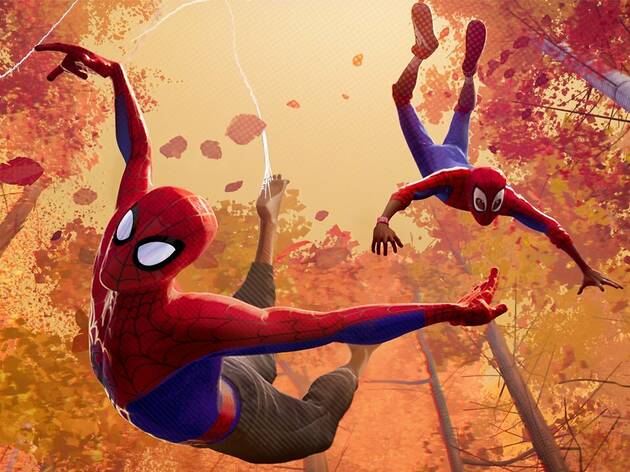 Time Out says
Nutso yet often inspired, this Spidey reboot is well worth shelving your Spider-fatigue for.
Thought we'd reached peak Spider-Man? Think again. After what seems like umpteen movie versions, here's one that embraces the most out-there elements of Spider-Man lore and forges something new from them. Yes, it rips through yet more origin stories and sets up another villain with an evil, multiverse-opening thingamajig. But by the time it's chucked in a Spider-pig (yes, really), a no-crap-taking Aunt May, a Banksy joke and buckets of Day-Glo–bathed spectacle, resistance will be pretty much futile. "It can get weirder," points out one character. And it really does.
Inevitably, those two giddy Hollywood animation mavericks, Phil Lord and Chris Miller (The Lego Movie), are involved. The former is cowriter and the latter produces, and their stamp is all over an oddly endearing movie that's supercharged with charm and just a bit unhinged. This time, the story throws the spotlight onto the Miles Morales version of Spider-Man: an Afro-Latino teen voiced by Dope's Shameik Moore. A likable, ungainly high-schooler, he's bitten by a radioactive spider—the filmmakers know you're bored of this bit and speed right through it—and then reluctantly tutored by an older, jaded Peter Parker (Jake Johnson), who's been dropped into Brooklyn from a parallel dimension, complete with a broken heart and a burger belly.
Aside from the welcome sight of a superhero of color, we're treated to a clutter of other Spider-people joining the fray. Also hailing from parallel universes, they include Spider-Man Noir (gruffly voiced by Nicolas Cage), an anime "Peni" Parker, Spider-Gwen and, yes, Spider-Ham. It's like the Avengers reimagined by Old MacDonald. Each of the characters comes with their own animation style, visuals that constantly shift in weird and wonderful ways as the story spirals though nifty action sequences. Sure, some of the plot twists are a bit labored, and there's maybe a henchman too many—but, trust me, you'll be too busy rooting for the superhero with a snout to care.
Details
Release details
Rated:
PG
Release date:
Friday December 14 2018
Duration:
117 mins
Cast and crew
Director:
Bob Persichetti, Peter Ramsey, Rodney Rothman
Screenwriter:
Phil Lord, Rodney Rothman
Cast:
Shameik Moore
Jake Johnson
Lily Tomlin
Hailee Steinfeld
John Mulaney